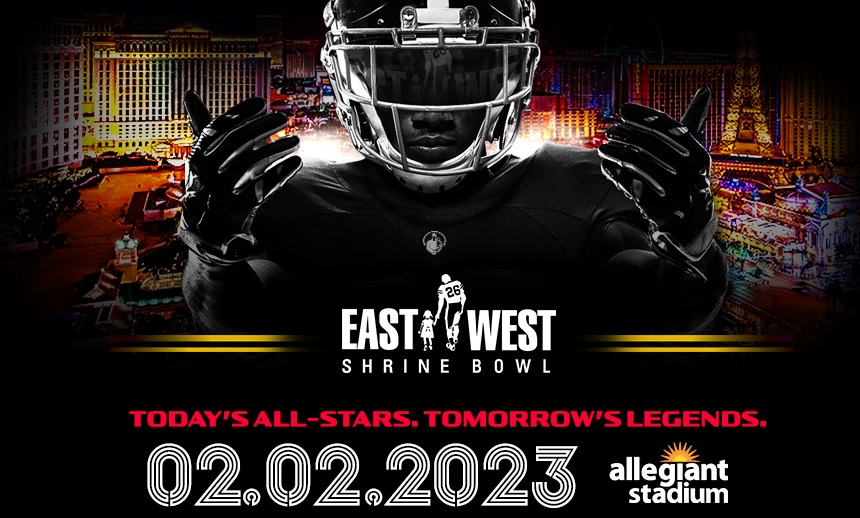 The majority of the Patriots staff including Bill Belichick and Bill O'Brien coached the West Roster this week at the East-West Shrine Game. While their primary focus was the West team, they are also going to get a look at the East squad.
Here ten prospects from this game that fit what the Patriots like to do offensively and defensively.
Zay Flowers, WR, 5-9 182, Boston College: The best receiver in this game and one of the best in this class. Silky smooth athlete who is explosive in space and can finish runs. Diverse. Flowers can play the F (Flanker), Z and X in the Patriots offense. I do not see him getting out of the first round so unless the Patriots took him at 14, he will be gone by the time they pick in the second round.
Xazavian Valladay, RB, 5-11 200 Arizona State: The Patriots will be looking to add depth to their running back room in the form of a back who excels in the passing game both as a receiver and as a pass blocker. Valladay checks off both boxes. He has been a big part of the Sun Devils passing game the past two seasons.
Travis Dye, RB, 5-9 205, USC: Dye was super productive at Oregon and while he didn't put up the same numbers at USC, he is still worth drafting in day three of the draft. Dye fits the mold of what the Patriots look for in a third down back. He is shifty, can beat defenders one on one in space and has untapped potential as a receiver.
Jack Colletto, FB/TE/LB, 6-2 239, Oregon State: Colletto played both ways at Oregon State but he projects as a fullback, second tight end (U) in the NFL. Colletto also played some direct snap quarterback for the Beavers and he started at linebacker. Tough, smart and versatile. He would be the perfect Patriot in many ways.
Jaxson Kirkland, OT, 6-6 322, Washington: Long and athletic, Kirkland can play either tackle spot or kick inside to guard. He profiles more as a right guard or right tackle type.
Jacky Chen, OT, 6-4 302, Pace: Chen is built similar to last year's first round pick, Cole Strange. Dominated in Division Two but it will be interesting to see if he can hang with the big boys. Has tons of upside as a day three prospect. Projects as a guard in the NFL.
Brenton Cox Jr. EDGE, 6-3 254, Florida: Cox made headlines this week when a video surfaced of him working with Bill Belichick. Belichick worked with him for good reason. Cox fits what the Patriots look for in EDGE players. He can play on the ball in a two point stance and rush the passer or he can also walk away and play off the ball as a linebacker. He is a versatile player who could wear many hats in the Patriots defense.
Eric Scott Jr. CB, 6-0 197, Southern Miss: The Patriots need to address corner and as we saw last season, they need to add length to the position. Scott is fluid and smooth in his movements. He changes direction with ease and he can plant and drive on the ball quickly and make plays. Scott does a good job of using hands when in phase as well. He would be a good fit in the Patriots system.
Myles Brooks, CB, 6-0 201, Louisiana Tech: Brooks moves well for a big corner. He has good feet and he transitions with ease when flipping his hips to get in phase. He also does a good job of getting his hands on receivers and re-routing. Another good scheme fit.
Trey Dean, SS, 6-2 211, Florida: Dean profiles more as a strong safety, box type player. His ability to line up in multiple spots and match up with tight ends and receivers will make him an appealing prospect to Belichick. The Patriots play with a lot of three safeties so Dean would fit the scheme.
East
Aidan O'Connell, QB, 6-3 212, Purdue: I think the Patriots need to consider drafting another quarterback in this draft. O'Connell is the best fit for them in the game. He has plus arm strength, manages the pocket well and is athletic enough to extend plays out of the pocket. He would be a good developmental quarterback and a good system fit.
Jordan Mims, RB 5-10 200: Mims can develop into a quality third down back with more reps in the passing game. Smooth and fluid, he has good feet and he can make one cut and hit the second level quickly. Mims has the type of frame where he can put on additional weight as well.
Nikko Remigio, WR, 5-9 183, Fresno State: The Patriots are always looking for slot, return type receivers. Remigio fits that bill. With Bill O'Brien back as offensive coordinator, the Patriots could emphasize smaller slot type receivers, Remigio is that type of player. He is a quality route runner who can separate on breaks and has plus hands.
A.T Perry, WR, 6-3 195, Wake Forest: Perry is a bigger, X receiver type who runs good route, plays with good body control and can win one on one in jump ball situations. A receiver like Perry is what the Patriots need if they lose Jakobi Meyers in free agency.
Alex Palczewski, OT, 6-6 314, Illinois: The Patriots should have a pretty good idea of what Palczewski is as prospect thanks to former defensive line coach and current Illinois coach Bret Bielema. Palczewski is long, athletic and he plays physical at the point of attack. He can play right tackle or kick inside to guard.
Chandler Zavala, OG, 6-3 322, N.C State: Zavala has played a lot of football. He is an experienced, high character, tough football player who has starter upside. A strong run blocker, Zavala gets consistent movement on single blocks and he is fundamentally sound as a pass blocker. Profiles as a right guard.
Ikenna Enechukwu, DT, 6-4 266, Rice: The Patriots like longer edge players who can play in a two or three point stance and play all three downs. Guys like Deatrich Wise are a valuable part of the defense. Enechukwu can be that type of player. He has a high motor, can be explosive as a pass rusher and has shown an ability to anchor down and hold the point against the run.
Brodric Martin, DT, Western Kentucky, 6-4 337: Bill Belichick loves his wide bodied nose tackles who can play the 0 technique or line up as a shade nose. Martin is a true two-down space eater who can two-gap, control blockers and has the quickness to stack, shed and make the tackle.
Mekhi Garner, CB, 6-1 220, LSU: Garner offers scheme versatility. He can play boundary corner or line up as a third safety in a big nickel package. His numbers won't wow you (3 career INT's) but he is consistent and he can play all three downs, in all packages.
A.J Finley, S, 6-2 201, Ole Miss: With Devin McCourty more than likely retiring, the Patriots need more free safety types in the secondary. Finely is long, athletic and has the ball skills to play all three downs and match up. He finished last season with 76 tackles and three interceptions. Finley is climbing up team's draft boards and could go earlier than expected thanks to his measurables and production last season.