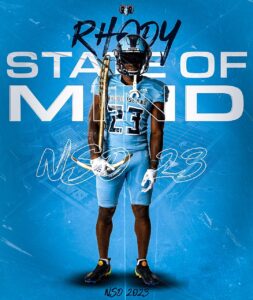 Image courtesy of @RhodyFootball
In a day where the portal is king, the University of Rhode Island and head coach Jim Fleming signed seven true freshmen to NLI's on Wednesday.
In the ultra competitive CAA, skill positions on both sides of the ball are key and the Rams went heavy on skill guys with an eye on both offense and defense. Special teams also had its place during this recruiting period as well. The seven additions on Wednesday are on top of the 14 players that URI announced as part of the Class of 2023 on early signing day in December.
Here's the list of new faces the Rams will be welcoming this spring:
Alvarez Baker
Wide Receiver
5-9 | 180
EAU Gallie High School | Melbourne, Fla.
Freddie Camp
Defensive Back
6-1 | 185
Gilbert-Northwest Regional High School | New Hartford, Conn.
Eddie Combs III
Wide Receiver
5-11 | 170
Rockledge High School | Orlando, Fla.
Dwayne "DJ" Cureton
Defensive Back
6-2 | 180
Heritage High School | Wake Forest, N.C.
Conner Kenyon
Quarterback
6-3 | 190
Bowie High School | Austin, Texas
Curlie Spencer
Defensive Back
5-11 | 180
EAU Gallie High School| Miami, Fla.
Devin Walter
Punter
6-0 | 195
Cox Mill High School | Concord, N.C.
Fleming and the Rams will need to get some contributions from the new guys on campus if they're going to be in the thick of the CAA streak with the likes of rival UNH, William & Mary and Richmond. Fleming has built a consistent contender the last few seasons after the program was really down, but in order to take that next step it's these younger classes that ultimately need to make their mark if URI is going to reach the postseason.