Image courtesy of UMass Athletics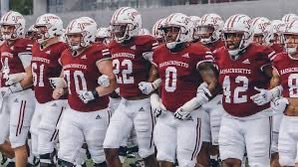 The energy and enthusiasm Don Brown still has for recruiting and the game of football in general was never more apparent than when he spoke to the media via Zoom on Wednesday.
The old ball coach was thrilled to sit and talk about his 13 new transfer recruits that officially became members of the Minuteman family on National Signing Day. Brown and the rest of the UMass staff added six players back in December and the 13 new faces joining the program this spring are all expected to help make an immediate impact.
Below is the list of names UMass sent out Wednesday morning as "official" transfers. Brown noted in his availability that they're still working through paperwork to bring two more names in as well.
Carlos Davis – QB | 6-3 | 225 | Baltimore, Maryland | Western Carolina | 1 YOE
Jalen Harrell  – VIPER | 6-2 | 210 | Hollywood, Florida | Miami| 3 YOE
Shambre Jackson – DL | 6-3 | 280 | Orlando, Florida | Florida State | 3 YOE
Dashaun Jerkins  – DL | 6-0 | 200 | Woodbridge, Virginia | Ole Miss/Vanderbilt | 1 YOE
Jalen John  – RB | 5-11 | 225 | Lake Oswego, Oregon | Arizona | 3 YOE
Brandon MacKinnon  – OL | 6-6 | 280 | Lakeville, Massachusetts | Northern Illinois | 3 YOE
Tyler Martin  – LB | 6-3 | 235 | Acton, Massachusetts | Arizona | 4 YOE
Steven Ortiz  – DB | 6-0 | 180 | Goodyear, Arizona | Minnesota | 3 YOE
Jackson Paradis  – RB | 6-0 | 225 | Kingston, New Hampshire | Buffalo | 4 YOE
Taisun Phommachanh  – QB | 6-3 | 215 | Bridgeport, Connecticut | Georgia Tech/Clemson | 2 YOE
Mark Pope  – WR | 6-1 | 180 | Miami, Florida | Miami/Jackson State | 1 YOE
Anthony Simpson – WR | 5-11 | 180 | Pawling, New York | Arizona | 2 YOE
Jermaine Wiggins Jr.  – DL | 6-3 | 230 | Boxford, Massachusetts | Arizona | 4 YOE
You'll notice quite a few local names on this list. Guys like Martin – who Brown had a previous relationship with – and Wiggins, but really every single player that decided to join the program, has a chance to step in on day one and help turn things around. Even in a time where NIL deals rule the college football world and players want guaranteed playing time, coaches like Brown can still reel in some big fish with their messages not just to the players, but their families as well.
"The NIL thing, in terms of the coaching staff, you really can't be involved," he said. "So, that comes down to a committee or whatever. It still comes down to you're selling yourself as a coach and as an advocate for the athlete. That's really important. The nice thing is, academically we're the No. 26 public research university in the country. We're selling the academics. You're in a great college town, not a college city. You may not appeal to everybody because you're appealing to guys that want to be in a town as opposed to a city.
"Really, you're selling the strengths of the school and not the NIL. The NIL is part of the process once you're here, but it's really not supposed to be part of the recruiting or the reason you come…the most important thing you do is develop players. Develop young men. That's the next level when it should come down to dollars and cents, not the college level and I think the NCAA is right keeping it out of the coaches hands."
Brown has been doing this recruiting thing for a long, long time, but even he knows today's athletes are far different than ones he coached or recruited even 10 years ago. So, what has he learned about the modern athlete that he might not have known before jumping back into the recruiting game as a head coach?
"It's funny, the one thing I'll say is I think our athletes have a lot more to overcome than in the past," Brown acknowledged. "Social media can be a real negative for players, especially if they let it attack their positive mindset. Crazy things get said on Twitter and all those other operations that are available. They're not true. They're not meaningful. They're just out there. Some guys let that stuff really attack their positive mindset and their positive self talk, that's a concern.
"I think that's the No. 1 area as a coach you've got to come in educating your guys about that. Try to get them to reduce screen time and stay away from what John Smith thinks of ya. If I did that, I wouldn't be coaching anymore…you just can't let that stuff impact you."
Recruiting kids out of high school is one thing, they're happy with the opportunity. But, convincing guys to join the program after they've been elsewhere and seen how another school operates is tough. That's what makes this heavy-portal class such an impressive one for Brown. The entire staff went into this offseason with a game plan and so far, they've executed it nearly flawlessly.
Now, the key will be getting all of these guys up to speed over the next month or so before spring ball begins.
"If you look at us a year ago, the one thing I don't think I did a great job of in terms of the recruiting piece, is we were probably one of the top five, to eight, to 10 youngest teams in America," Brown added. "When you start searching for veterans and guys that have experience that can take leadership roles, it's a pretty thin crop. We made it a point to get older and to get guys that have been through college practices, been through college seasons and have learned college football.
"That was really something we felt very strongly about, getting a little bit older to provide some experience and some veteran guys that could provide veteran leadership, guys that could show younger players the way things should be done."