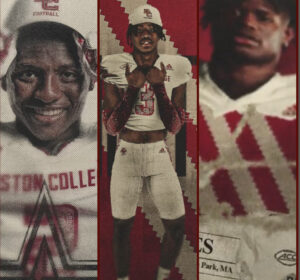 While Wednesday's National Signing Day was a big day for a lot of schools across the country, it was pretty quiet over in Chestnut Hill.
That's because BC took care of the heavy lifting back on the early signing day in December. Head coach Jeff Hafley spoke to Rivals on their National Signing Day Show. Gorney is the National Recruiting Director for Rivals.
"You'd like to get them locked in (early), it makes things a lot easier," said Hafley. "At the same time, you want to be patient and make sure you keep looking for the right guys on and off the field, especially at a place like Boston College where we really have to find the right fit. We've had two classes so far, this being our third, so we kind of got a feeling earlier this year and we signed 17, which was a smaller class for us, we did that intentionally. We brought in six mid-year's so we'd have some room and we hit the portal a little bit.
"Those 17 were committed to us, stay committed to us and we appreciate that. A lot of them are here and already off and running."
Hafley was asked specifically about Jaedn Skeete from CM and immediately smiled upon hearing the name.
"We offered him his sophomore year," Hafley said. "He committed to us really early. Usually, when you get those commitments, it's one where you've got to hold on, go back and forth with other people recruiting him, does he want to visit other places? He's a guy that never did. He stayed with us. He got better and better…he's got great length, he's got enormous hands, he's got a live body and he's such a great kid. He's smart, he's tough. He played defense this year as well as offense. It's nice when you get to see a kid in your backyard practice year after year and win state championships two years in a row.
"He's a kid people came after late and we had some conversations. People wanted to official him late and he stayed true to his word. He didn't go on those visits and he committed. I think he's going to be a great player. I think he's the best player in the state this year and I think that will show in the next few years. I think he's going to have a really, really nice college career."
Gorney pointed out that both Skeete and Datrell Jones have been committed to the Eagles since August of 2020, something that's pretty remarkable in today's college football landscape. How is it possible?
"It's a school in (Catholic Memorial) right here in our backyard where Coach Dibs (John DiBiaso) has done a great job," said Hafley. "I think he's one of the best high school coaches in the country. We have a great relationship with him and the school. We've watched those kids from a young age on, they're constantly on our campus, constantly at our practice, coming to our games, where they just start to feel like part of the family. They know the players on the team, they're close friends. We actually took Max Tucker another defensive back from the same school, we took him late and that's a good story.
"That's a kid I've watched. I'm a DB guy, my background, or at least I was a DB guy, I guess since I'm a head coach now, but DB guy for a long time. I watched him over and over in practice and every time I left I was like, 'gosh, why don't I offer that kid?' and as it got closer to signing day, I kept watching him, I saw him live in the state championship game playing offense and defense, caught a touchdown right in front of me…that weekend, with everything that was going on with the portal and kids can leave now, if you can get a kid in your backyard that you really like and you think you can develop and is tough and competitive, we've got to offer this kid. I picked up the phone, talked to him and his family right before signing day. No disrespect to the school he was committed to, I don't love that, but at the same time he's a kid in our backyard and he committed. So, we took three, him, DeDe and Skeete. Datrell can fly, really can move. He's a kid that'll be a running back for us, I think he can play multiple positions and then I think Max has a chance to be a really good DB. Really excited about those three."
As far as recruiting in Massachusetts and New England, Hafley has always been blunt about wanting to put a fence around the region. A lot of coaches say it, but Hafley has done it. Keeping guys home in the wild world of the portal is more important now than ever.
"At BC what I've learned is, because of the academics, we're a national brand," he said. "We go out to California and it's easy to walk into a lot of those schools, they respect the academics and obviously the football in the ACC. That's a lot of parts of the country and that's great, we've got students that go here from all over the country. Now with the portal, it's easy to leave, right? So, are you homesick your freshman year? A lot of kids are, it's a normal feeling. Do you have doubt early in your freshman year? Yeah, for sure. There's days when it's really hard. You start questioning, can I do it here? Do I want to do it here? This place is way different than where I'm from. Now, there's an easy way out.
"There's some kids that are just going to want to leave and go home and not push through it. So, I think (recruiting locally) is really important. I've always thought it's important to really evaluate hard our backyard. Don't worry about who's offering who. Continue to watch them, because we can because we can see them practice, and we can really get to know them better because they're right here. I do believe those kids are less likely to leave than some of the kids that are further away. While I want to recruit nationally as much as we can, we need to do a great job regionally."
Hafley also touched on his approach when it comes to the portal since finding the "right fit" at BC might not be as easy as other places.
"One, it's kind of hard to make sure you get that right fit," he added. "You've got to really do your homework. When we're recruiting these high school kids, some we've known for two years, some for a year and we get to know them and their families. The portal recruiting is like two or three weeks you've got to figure everything out, so you've really got to do your homework. To me, the culture in the locker room is so strong. I want to build this thing and develop it by recruiting high school players. That's really important to me and that's going to be how we win here.
"Develop our freshmen to be sophomores and juniors and go on to be great seniors and hopefully get them to stay for a fifth year if we can. Or, if not go to the NFL. We wanted to hit the portal to fill some holes and create some competition that we didn't have. We're young. 37 of the 44 on the two-deep at the end of the season were first and second-year players. Wanted to add some competition, but at the same time I wanted to make sure they fit our team. I have a good pulse of who those kids in the locker room are. What the type of kids that walk around this campus are, and I want to make sure we bring the right student to Boston College, as well as the right football player, which is very important for me."