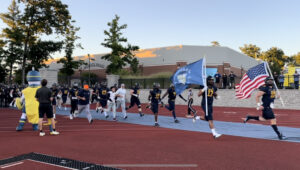 Just one win away from a Northeast Conference title a year ago, Merrimack is all-in on an FCS playoff push in 2023.
The Warriors are now eligible for the postseason after having to sit it out following the move. Now, head coach Dan Curran, his staff and the rest of the Warriors are welcoming a new bunch of talent into the fold. Below is a list of guys Merrimack has officially brought in both during the early signing period and on Wednesday.
-Brendon Wyatt 5'11 195 RB Dematha Catholic 1st Team All WCAC Junior and Senior year. Held 16 Division 1 offers including FBS Schools Maryland, Temple, Charlotte, Umass as well as FCS schools Holy Cross, UNH, Monmouth, and Fordham.
-Bryce Warrick 6'0 295 DL Springfield Central 1st Team All State performer with Bill Watson's program. Held offers from Sacred Heart and Stonehill
-Brandon Smith 6'2 305 OL Dematha Catholic 1st Team All WCAC Junior and Senior year. Held offers from Duquesne, Elon, Delaware State, Stonehill, LIU, St Frances
-Markeith Hogan 6'0 210 LB Gonzaga College Prep 1st Team All WCAC performer Junior and Senior year. Recruited by UPenn, Columbia
-Mathias Lattham 5'10 190 RB/S Central Catholic 3 year starter and 3 x All Conference Performer, and All State performer for one of the best programs in the state. Held an offer from Stonehill
-Deandre "Juice" Ricks 5'11 180 DB Dematha Catholic All Conference Performer and one of the fastest people in the state of Maryland
(100 meters/200 meters) Held offers from Coastal Carolina and Morgan State.
-Cidney Johnson 6'4 230 DL St Paul (MD) All Conference, All Region performer. Held offers from NC Central and Delaware State
-Austin Palmer 6'2 205 WR Bishop McNamara 1st Team All WCAC performer Junior and Senior season. Held offers from St Frances, Uconn, Delaware St, and Towson
-Paris Lenon 6'2 190 Hybrid S/LB Williston Northampton All Conference performer for Coach Beaton (1st cousin of our best player Nick Lenon/Junior DL #17) Held offers from Stonehill and Marist
-Sean Mercuri 5'11 215 LB Central Catholic 2 x Captain and 2x All Conference performer and Globe All Scholastic for powerhouse Central Catholic
(Older brother Michael was a Team Captain and All New England performer for Merrimack Football 2019) Held offers from New Haven, Assumption
-Jalen McDonald 5'11 180 WR Gonzaga College Prep Team Captain and 2x 1st Team All WCAC Uncle Julius Jones (Seahawks/Cowboys) played with Coach Curran in Seattle Held offers from Toledo, Lehigh, Georgetown
-Tavon McGee 6'1 210 RB Baltimore Poly Tech 2x All Conference, All Region performer. Held offers from Morgan State, Fairmont State, Frostburg State
-Amir Johnson 6'3 305 OL East Coast Prep Burlington, NJ native was East Coast Prep's top Offensive Lineman in his Post Grad year. Held offers from Central Ct., Shippensburg, and Edinboro
-Anthony Aviles 6'3 290 OL Depaul Catholic 2 year starter and 1st Team All Conference Performer for State Championship team. Held offers from Marist, LIU, and Shippensburg
-Seth Sweitzer 5'11 185 WR Choate School All Conference performer for Coach Spinnato in Post Grad year after being All State in 2 sports (football and lacrosse) during high school career John Hand (CT) Held offers from Central Ct. and Columbia
Transfers
-John Griffth 6'1 205 QB Maryland Transfer originally from National Power St Frances Academy (MD) where he was a 3 year starter for #2 team in the country…has 4 years left
-Beau Lanzidelle 6'5 305 OL Rutgers Transfer originally from the Hun School in NJ where he was an All Conference performer. OL Coach at Rutgers (Augie Hoffman) played with Coach Curran in New Orleans has 3 years left
-Collin Heard 5'9 180 Nickle Colgate Transfer 2x Team Captain and All Conference Performer in the Patriot League has 1 year left
-Jabari Echols 6'0 185 DB Umaine Transfer Former Mount St Joseph (MD) standout started 4 games for the Black Bears has 3 years left.
Most, if not all of these guys could have a chance at making a real impact early on during their time in North Andover. It's obviously early, but between what the team has coming back and some names on this list, it should be FCS postseason or bust for the blue and gold in 2023.