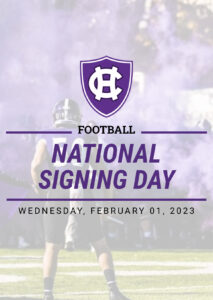 Image courtesy of @HCrossFB
At this point, would anyone be surprised if the other Patriot League teams filed a petition or something to keep Holy Cross off the recruiting trail?
Winners of four straight league titles and about one quarter away from playing in the FCS semifinals a year ago, Holy Cross added a bunch of new faces on NSD Wednesday. The Crusaders have Matt Sluka back at quarterback, which automatically puts them in the driver's seat for a league title, but it's not just Sluka returning. A good amount of the core is back, and while some key names (Ayir Asante, who went to Wyoming, among others) are now gone in the portal or graduated, this new crop of talent will almost certainly have a few guys that make their presence known right away.
The names below are all of the signings HC made official between the early signing day in December and Wednesday:
Garrett Baldwin DB 6-0 185 Ann Arbor, Mich.
Colin Beesley OL 6-5 295 Prosper, Texas Prosper
Bradford Blattner OL 6-6 300 Shrewsbury, Mass. Shrewsbury
Francisco Castro LS 6-1 220 Miami, Fla. Christopher Columbus
Jayden Clerveaux RB 6-0 215 Everett, Mass. Williston Northampton
Donovan Comestro DB 6-1 180 Ladera Ranch, Calif. Santa Margarita Catholic
Carlo Crocetti DB 6-4 215 Bridgewater, Mass. Loomis Chaffee (Conn.)
Ross Dansdill LB 6-4 240 Wheaton, Ill. Wheaton North
Adam Due DB 6-2 185 Prosper, TX, Texas Prosper
Austen Frattura QB 6-2 215 Sparta, N.J. Sparta
Brendan Gay OL 6-4 295 Mendham, N.J. Delbarton
Jovan George DT 6-3 300 Kearny, N.J. Don Bosco Prep
Elijah Hopkins WR 6-2 180 Riviera Beach, Fla. William T. Dwyer
Will Janis OL 6-4 290 Cos Cob, Conn. Brunswick School
Josh Jenkins QB 6-2 185 McKees Rocks, Pa. Sto-Rox
Cam Jones DB 6-0 195 Reading, Pa. Wilson
Charly Mullaly WR 6-2 195 East Fishkill, N.Y. John Jay
Bennett Nunnally OL 6-5 265 Fort Worth, TX, Texas All Saints Episcopal
Chisom Onwuzurigbo DB 6-2 195 Missouri City, Texas Hightower
Luke Petitta TE 6-5 240 Sarasota, Fla. Riverview
Daniel Porto P/K 6-1 185 Orlando, Fla. Horizon
William Robinson DE 6-5 250 Cleveland, Ohio Saint Ignatius
Dan Rosenberg LS 6-0 230 Wakefield, Mass. Milton Academy
Cam Santee ATH 6-3 220 Avon, Ohio Avon
Stu Smith DB 6-1 190 Indianapolis, Ind. Cathedral
Drew Spinogatti LB 6-1 220 Winter Garden, Fla. Bishop Moore
Brice Stevenson DT 6-2 285 Tampa, Fla. Berkeley Prep
Eli Thompson DB 5-11 175 Rome, Ga. Darlington School
Maxwell Warren WR 6-1 185 West Haven, Conn. Avon Old Farms
Jonathon Wood DB 5-11 190 Williamstown, N.J. Williamstown
Sean Woods OL 6-4 290 Saddle River, N.J. Bergen Catholic
All 31 names on this list may not have a "breakout year" and some may not even finish their careers as Crusaders, but for the time being, the balance in terms of where these players are coming from just shows what type of recruiters this Holy Cross staff has. It also shows how much the purple brand is expanding nationally.
The amount of local talent is interesting too. While fighting off teams like BC, UMass, Merrimack, Harvard and others, Holy Cross is winning a lot of these battles for the top talent right here in its own backyard, which is huge.
The biggest recruit of the year was re-upped last week as Bob Chesney had his deal restructured, keeping him in Worcester through 2028. This class and really the last three years as a whole have shown the athletic department what it looks like to build championship culture and now, with a new wave of talent coming in, there's plenty of reason to believe expectations should be just as high, if not higher in 2023.