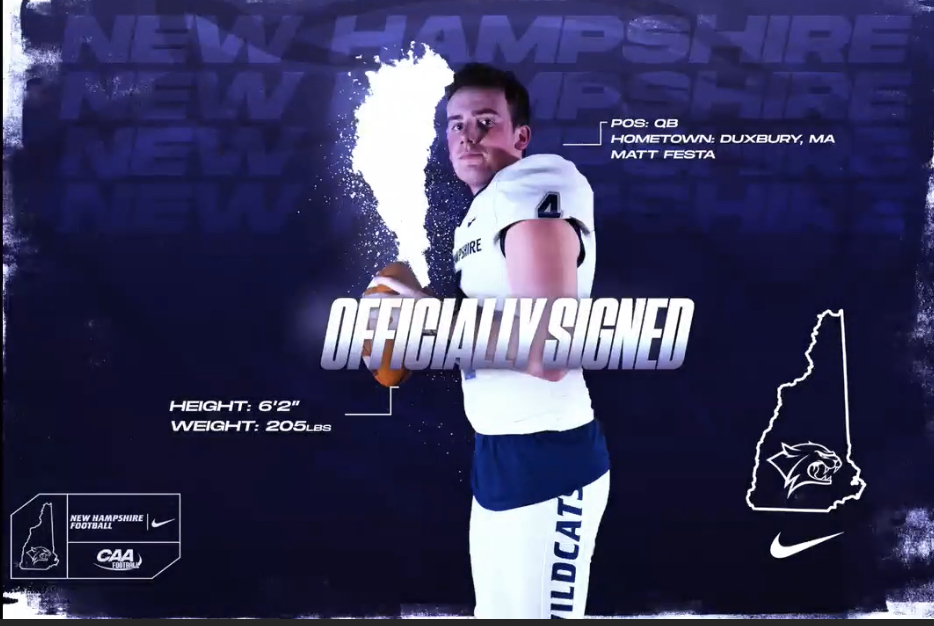 In one of the top storylines of National Signing Day, Duxbury quarterback Matt Festa inked his pledge to the University of New Hampshire.
https://twitter.com/unh_football/status/1620817624660860928?s=46&t=wWBXP7mzuVfRGKPa_VpVkQ
Throughout the recruiting process, it became a real question mark on where Festa would eventually sign. For much of it, Festa did not have an obvious landing spot. It took a while for many of the local Division 1 programs to offer the talented player.
In the end, UNH became a team that made a lot of sense.
Festa had a tremendous career for the Dragons. The 6-foot-2, 205-pounder started since his freshman year, but finished with a bang as a senior. He led Duxbury to a 12-0 season this fall, and a Div. 4 state title after losing in that championship in 2021.
Not only was Festa deadly accurate, but he had a strong arm, and the type of athleticism college programs covet. Also a terrific baseball player, at one point in his high school career, Festa had committed to play that sport at Maryland.
But Festa's love for football was too much to give up for the diamond. Over his career at Duxbury, Festa completed 67.2 percent of his passes for 6,362 yards and 112 total touchdowns. He had 7,457 all-purpose yards when you include his rushing. As a senior, he ran and threw for a total of 50 touchdowns.
He collected about every award you could ask for, and for this publication, he was a first team all-state performer.
Still, at some points in his recruitment, he was a little underrated, and it seemed like schools were overlooking him.
However, UNH could be the perfect destination for Festa. The Wildcats always do a great job identifying local gems, and it looks like they have done so again.
Festa is pure winner, and should have the type of success at that level that he did at Duxbury.
"Matt is a proven winner and record-setting quarterback from the great state of Massachusetts," UNH coach Ricky Santos said. "He is a tremendous leader and someone who inspires his teammates by his work ethic. His quick release allows him to get the ball out fast, and he is extremely accurate. He can make all the throws from the pocket as well as being a playmaker on the move. We're thrilled to add him to the UNH family, and he will make our QB room better."
Indeed, one of Festa's best qualities as a passer is his quick release. Festa just flicks the ball and it comes out of his hand fast. And, like Santos said, Festa's arm is strong and accurate. Add on to that Festa's athleticism, and you get a talented, productive signal-caller.
It will be fun to follow Festa's career at UNH.