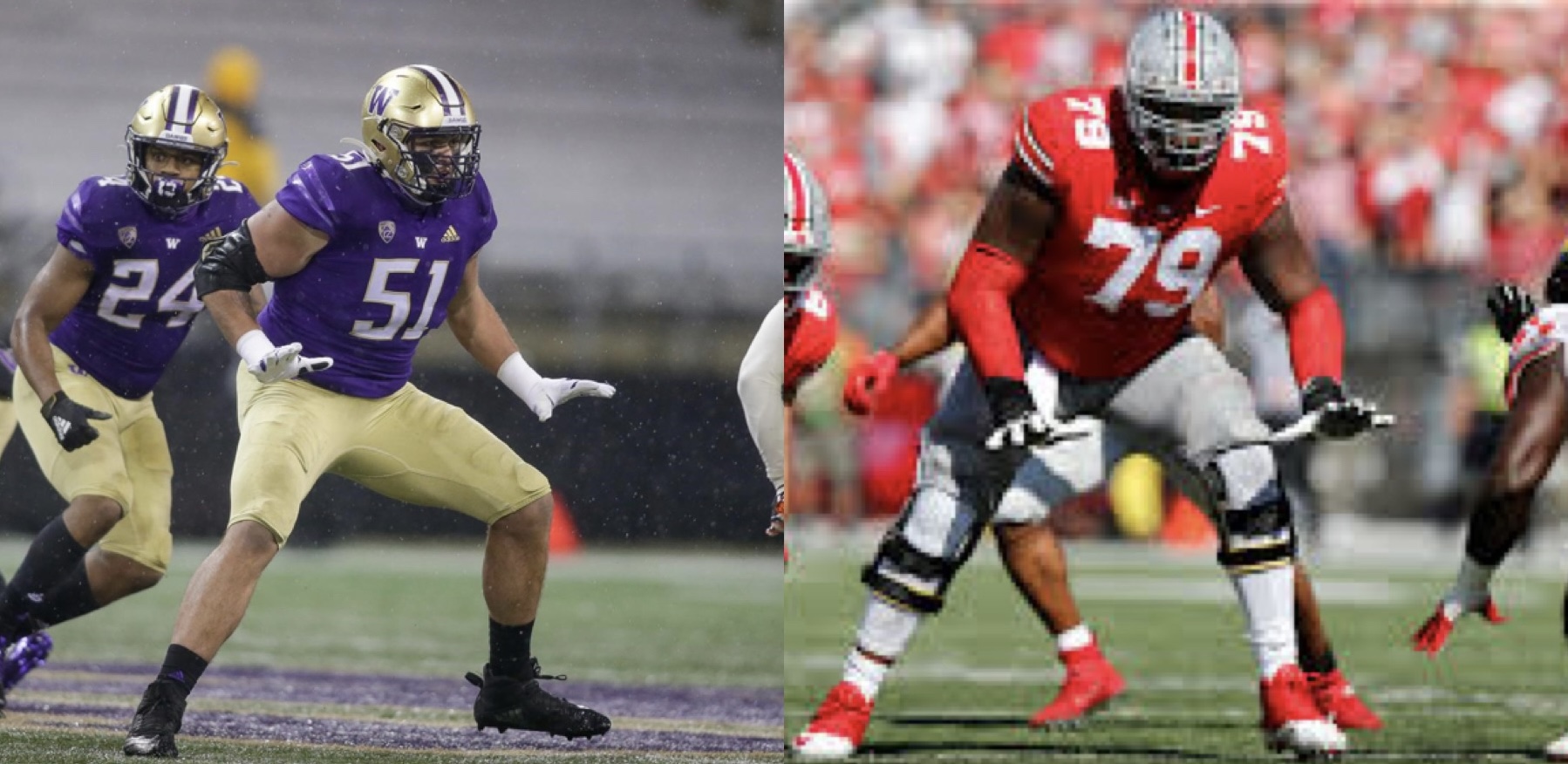 The Patriots offensive line problems were well documented this past season, especially at tackle where Trent Brown struggled and right tackle was a revolving door.
The Patriots have to figure out what they are going to do with Brown and free agent to be Isaiah Wynn. Do they bring both back? That remains to be seen. For now, they know they need to upgrade the offensive line once again. That may not be appealing to Patriots fans after they took Cole Strange with their first round pick last year but the Patriots need to get better upfront if they want to get back into playoff contention next season.
Here are ten offensive lineman to watch in the Shrine and Senior Bowls.
Shrine Bowl
Jaxson Kirkland, OT 6-5 322, Washington: Kirkland is long, athletic for his size and offers scheme versatility in that he can play guard or tackle. Could be a possible pick in day two of the draft. WEST
Jacky Chen, OG, 6-4 302, Pace University: Dare I say, another small school guy. Chen is built a lot like last year's first round pick Cole Strange and just as athletic. Could be a solid late day three value pick. WEST
Colby Sorsdal, OT, 6-5 301, William & Mary: Sorsdal is athletic. You see his movement skills really pop on tape. Plays with good functional strength at the point of attack and can seal linebackers at the second level consistently. Another versatile lineman who could be a good mid-round value. WEST
Alex Palczewski, OT, 6-6 314, Illinois: Played for former Patriots assistant Bret Bielema so you know the Patriots got the full scoop on him. Plays with a mean streak and is a natural bender. Versatility is the theme when it comes to the Patriots. Palczewski offers swing value as a guard or tackle. EAST
Chandler Zavala, OT/OG, 6-4 322, N.C State: Zavala is tough, physical and can get movement at the point of attack on single blocks. He moves well laterally as well. He is a guard but he can also back up at right tackle and start there as well. EAST
Senior Bowl
Dawand Jones, OT, 6-8 359, Ohio State: Jones has been dominate thus far at the Senior Bowl. He has the longest wingspan ever recorded in the 74 year history of the game and he has had a dominant week. A strong run blocker who is natural bender, Jones plays with good functional strength and has really good feet for a guy his size. NATIONAL TEAM.
Matthew Bergeron, OT/OG, 6-5 323, Syracuse: Bergeron can play guard or tackle. He has thick frame, good length and he plays with good bend at the point of attack as a run blocker. He has good feet and moves well for his size. Offers swing potential. AMERICAN TEAM
Steve Avila, OG, 6-4 330, TCU: Big and nasty. Avila is an experienced player who is a road grader in the run game. He gets consistent movement on single blocks and is a good short area pass blocker. Could be a day one starter if he ends up in the right situation. AMERICAN TEAM.
Cody Mauch, OT, 6-6 302, NDSU: Mauch started out as a tight end and eventually transitioned to tackle. He has had a great week in Mobile. He can play guard or tackle. An athletic lineman who plays with great fundamentals, functional strength and is athletic for his size. NATIONAL TEAM.
Olusegun Oluwatimi, OC/G, 6-3 307, Michigan: A guard, center combo lineman who won the Rimington and Outland Trophies this past season. Oluwatimi plays with good functional strength at the point of attack. Shows good snap and pop and can get consistent movement on single blocks. A smart, tough player who would be a great fit in the Patriots scheme. NATIONAL TEAM.