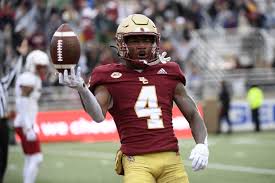 If you've watched Zay Flowers play at Boston College the past three seasons, you can see that he was special. From his route running, speed in the open field to his ability to make plays in space, Flowers is an elite athlete.
In the end, it was a 10/10 day for @ZayFlowers!😎💫#ShrineBowl🏈 pic.twitter.com/73eV2qIWPx

— East-West Shrine Bowl (@ShrineBowl) January 30, 2023
So it is no surprise what he did at practice on Sunday at the Shrine Bowl. Flowers showed the top flight speed that makes him a first round talent but perhaps the one thing that really stood out is his ability to separate on breaks. He stacks cornerbacks quick and can snap, separate and get to an open spot.
Flowers has also shown consistent hands and a wide catch radius for a receiver his size.
Perhaps the best part of Flowers game is his scheme versatility. Flowers isn't just a receiver. You can run him on jet and fly sweeps and reverses. He is also a weapon on perimeter screens and in the return game. His short area quickness and special awareness as a route runner is elite. He can break a defender down one on one and win. That is what makes him special.
College football fans especially Boston College fans already know that Flowers is a dude. Now the rest of the country will see just how good he is. He is a first round talent and he has the opportunity to prove that this week. He has certainly caught the attention of Patriots wide receiver coach and West Head Coach Troy Brown.
"He's got some quickness. He's got some speed. He's able to do some things that some other people can't do being a smaller player, a slot receiver type guy."
if Flowers continues to do what he has been doing this week and caps it off with a strong combine and pro-day, there is no way he isn't a top 25 pick. Simply put. He's HIM and he's proving it so far in Vegas.
As for his how fast he will run when he tests, Flowers didn't hold back. He was honest.
"I'd say low 4-3's, hopefully 4.2, but I've never ran a 40 in my life. I've only timed the 10-yard, that's what we did, the 10-yard splits. (I've ran) like a 1.40…the start is the hardest part Just opening up and running, every football player do that naturally. I've never ran track before. I played basketball, I actually played basketball more than football in high school."
Flowers isn't expected to play in the game on Thursday but it won't really matter. He has already proven in one practice that he is the best receiver in the East-West Shrine Bowl.