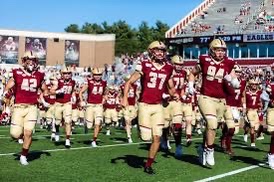 Image courtesy of The Heights
Well, well, well, as quickly as 2023 arrived, it's not speeding by as the ACC revealed its schedules on Monday night for all of its members.
At first glance, Eagles fans should be ecstatic with the road map laid out in front of the team this season. Assuming health is far better than it was in 2022 and assuming that this is finally the type of team fans envisioned when head coach Jeff Hafley took over, this could be that special season.
Here's a quick look at all 13 weeks…
WEEK 1 – 9/2 vs. Northern Illinois University

WEEK 2 – 9/9 vs. Holy Cross

WEEK 3 – 9/16 vs. Florida State

WEEK 4 – 9/23 @ Louisville

WEEK 5 – 9/30 vs. Virginia

WEEK 6 – 10/7 @ Army

WEEK 7 – 10/14 BYE WEEK

WEEK 8 – 10/21 @ Georgia Tech
WEEK 9 – 10/28 vs. UConn

WEEK 10 – Friday 11/3 @ Syracuse

WEEK 11 – 11/11 vs. Virginia Tech

WEEK 12 – Thursday 11/16 @ Pitt

WEEK 13 – Friday 11/24 vs. Miami
Not only does BC get four home games the first six weeks, but there aren't any truly daunting road trips this year either. Now, the new structuring of the ACC has a lot to do with this scheduled looking far easier than those in recent years, but it's the timing of certain games that stand out to me.
Getting Florida State at home after (hopefully) starting 2-0 is a nice way to jump into ACC play. The bye week in Week 7 is about as good as you can ask for if you're Hafley in the staff too. It's not too early, and it's not outrageously late where it's almost pointless to even have, UConn being late in the year again is cool too, especially if both teams have something to play for.
Friday night at Syracuse is going to be tough, that place will be rowdy, but it then gives BC an extra day of prep to host Virginia Tech. The Thursday night primetime matchup against Phil Jurkovec and Pitt is just so well done by the ACC. If both teams are playing well, the hype around that week will be phenomenal and it also might hurt Phil a bit having to prepare for the Eagles on a short week. Having that game in the national spotlight is just a fantastic decision.
The, getting to close out the season against a former Big East rival in what you would think is going to be brutal weather is another nice break for BC too. Ultimately, the games are played on the field and predicting what can happen in friggin February doesn't matter, but this schedule is very, very favorable for BC and a fan base desperate for a big year.