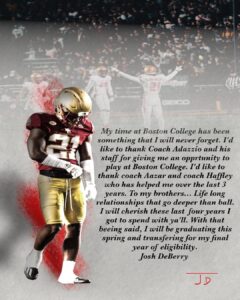 The Eagles secondary suffered a major blow on Monday night.
Defensive back and one of the most valuable leaders on defense, Josh DeBerry, announced he would be graduating this spring and then entering the portal in a social media post. DeBerry's post read like this:
"My time at Boston College has been something that I will never forget. I'd like to thank Coach Adazzio and his staff for giving me an opportunity to play at Boston College. I'd like to thank coach Aazar and coach Hafley who has helped me over the last three years. To my brothers…Life long relationships that go deeper than ball. I will cherish these last four years I got to spend with y'all. With that being said, I will be graduating this spring and transferring for my final year of eligibility. Josh DeBerry"
DeBerry made 39 solo tackles a year ago, had one interception and four passes defensed. Since 2019, DeBerry had 114 solo tackles, 14 passes defensed, one sack, three forced fumbles and four interceptions for his career with the Eagles.
DeBerry will be hard to replace on the field, but maybe even more hard to replace off it. One of the quiet leaders of this defense that had been on the team since Hafley took over, along with the departure of Jason Maitre, BC has some big leadership roles that will now need to be filled on the back end of the defense.