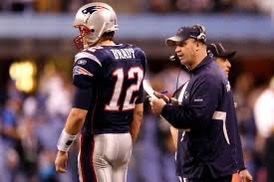 Image courtesy of Matthew O'Haren/USA TODAY Sports
Tom Brady, quarterback of the New England Patriots in 2023.
Has. nice ring to it, doesn't it?
Whether you think he's over the hill or believe he still has good football left in him (like I do), you've got to admit, it immediately brings back the memories. But in reality, is it all that crazy to think he could end up back here? The Bill O'Brien hire certainly helps whatever slim chances there currently are.
There have been reports that Brady would be happy to work with O'Brien again, and yes, we've all seen the video countless times when the two of them blew up on the sidelines during the glory days. Many years removed from that and three years removed from the only operation he's ever known in the NFL, Brady can probably appreciate the hard coaching more now after seeing the soft situation in Tampa ultimately deteriorate dramatically. You never know, maybe Brady wants to play until he's 50 and O'Brien or Mayo are set to take over if and when Bill catches Shula, I'm sure he wouldn't hate the sound of that.
Obviously, Mac Jones is a big piece in all of this too, but are we all convinced Bill Belichick believes in him? Belichick is just 20 wins away from solidifying himself as the greatest coach in football history. If you're going to end up moving on from Jones in the next year or two anyways and starting over at the position, and if the Krafts want Brady back, then it's an easy decision for everyone to trade Jones before the draft. Brady gives this team a better chance to win right now than Jones does and could be Bill's quickest path to the wins record. At least this time with RKK seemingly watching over everything like a hawk, they can maximize the asset unlike when they traded Jimmy G. You can also still go into the draft this year and grab a QB to learn under Brady, which is something that isn't realistic for Jones to do in what would be his third year after starting the first two.
With recent word that the Green Bay Packers would only move Aaron Rodgers to an AFC team, there are a few possible destinations like Las Vegas, Tennessee, Miami or New York that could all go with the younger Rodgers, limiting Brady's options. Depending on what Brock Purdy does this weekend, you've got to imagine San Francisco is on the table, but with Trey Lance there and Kyle Shannahan's unwillingness to bring in Brady the first time he was a free agent, there's no guarantee.
The biggest factor in all of this is whether Belichick would be able to admit he screwed up letting Brady walk out the door the first time. It wouldn't necessarily need to be public – and probably never would be – but behind closed doors, can he and TB12 co-exist after three years apart? It feels like if Kraft was in for moving Mac and bringing Brady back there wouldn't be much of a choice, but it's also a huge blow to the "legacy" noise about needing Brady to win. Is that something he can ignore if it ultimately allows him to pass Shula?
In reality, Brady can acknowledge he may have taken the way things run here for granted too. He was able to carry his head coach in Tampa to one Super Bowl, but needed the structure that was sorely missing the last two seasons, something Belichick and now O'Brien can still provide. As far as talent, if you had Kendrick Bourne, Nelson Agholor, DeVante Parker, Tyquan Thornton, Hunter Henry, Jonnu Smith, Rhamondre Stevenson and this defense here in 2019, we may have seen a walk off Super Bowl for the goat instead of the ugly exit. This roster is far better than many he worked with throughout his career in New England and I don't think it would be an issue, plus it feels like they're going to add one way or another this offseason.
All of this actually coming together and happening would be remarkable, but at least for today, the crowd that wants to see Brady return to end things the right way got a bit closer to that dream with the Bill O'Brien hire.
Tom Brady, quarterback of the New England Patriots in 2023. In the words of George Costanza, "it's not a lie if you believe it."