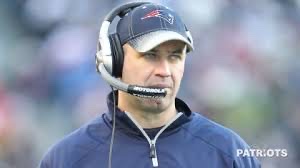 Image courtesy of the New England Patriots
Patriots' fans year-long nightmare is over. The forward pass will be returning to Gillette Stadium in 2023.
Multiple reports this morning had Bill O'Brien returning to New England to be the offensive coordinator of the Patriots. Someone who actually knows offense will be calling plays in 2023, pretty interesting concept huh?
O'Brien will return to the organization for the first time since 2011 when he was the QB coach/OC. O'Brien has spent the last two years as the Alabama OC under Nick Saban and prior to that was the head coach of the Houston Texans from 2014-2020. That stint followed a head coaching stint at Penn State between 2012-2013. Born in Dorchester, raised in Andover and a graduate of St. John's Prep before going to Brown, O'Brien is a New England guy through and through.
The most important aspect of this hire if obviously the fact that the team will presumably have someone calling plays that actually knows what he's doing. But, the communication is also a key factor here. It's pretty apparent Mac Jones couldn't – and probably didn't really want to – get on the same page with Matt Patricia or Joe Judge this year. Well, it's hard to imagine O'Brien would A. allow Mac to whine and complain like he did last year, particularly with his temper tantrum-like emotions and B. O'Brien now has the ability to hit the ground running with Jones from a terminology standpoint since Jones actually helped O'Brien with the Bama' offense when they briefly crossed paths before Mac entered the draft.
Hopefully, O'Brien is allowed to bring in some other coaches on the offensive staff. Reports have Adrian Klemm as a potential O-Line coach and while Troy Brown is here (for now), possibly bringing Kennan McCardell or Shawn Jefferson on as another assistant or to replace Brown wouldn't be the worst idea in the world since this team desperately needs new voices and new ideas. Above all else, the offensive line coach hire is most important now that O'Brien is in place.
Getting this done now was also important because of the Shrine Bowl. Having O'Brien and other guys actually working together as a fully functioning unit while evaluating these players and coaching them up is huge. Not just the evaluation periods, but actually calling plays and formulating game plans for this thing is a fantastic trial run of sorts for everyone involved.
Of course the Tom Brady speculation will also ramp up now too. There's been rumors that Brady wanted to work with O'Brien again and with TB12 almost certainly not going back to Tampa, why not dream if you're a Patriots fan? Now, the only way it happens is if Bill moves on from Mac – he's not going to sit for two years and have the team pick up his option, that's not how this works – which is very plausible given Bill's lack of support for his QB at times this season and during his exit press conference. There would also obviously need to be an acknowledgment of screwing up from BB in regards to letting Brady walk the first time, but if gets him closer to Shula's record quicker than Jones would, it has to be a consideration. The Krafts would almost certainly welcome Brady back with open arms too.
This is a home run hire already no matter who's under center. Not only are the Patriots instantly 2-3 wins better than they were in 2022 just having a fully functioning play caller again, but this also shows just how serious the Krafts were about turning this thing around as quickly as humanly possible.