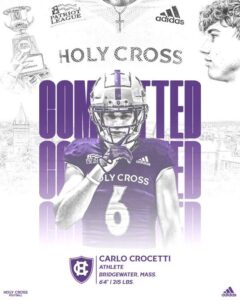 Holy Cross struck with a big local commitment from Carlo Crocetti, who announced the pledge on Twitter Tuesday.
Crocetti, out of the 2023 class, did a post-grad year at Loomis Chaffee after a strong career at Xaverian.
This season, Crocetti saw his recruitment pick up among Ivy League schools, and Holy Cross was on him throughout.
Crocetti is an intriguing prospect, and one of the reasons for that is versatility. At 6-foot-4, 215 pounds, Crocetti can make an impact at wide receiver, tight end, linebacker, or safety.
Although Crocetti fits the bill of a possession receiver because of those measurables, he is also a downfield threat with his 4.5-second in the 40-yard dash speed.
But right now, Crocetti is likely a safety at Holy Cross. He makes a big, physical presence at that position with great ball skills. Still, his experience at other positions will help him down the road.
Simply put, he's a football player, and a good one. Crusaders coach Bob Chesney will no doubt find good use for him.