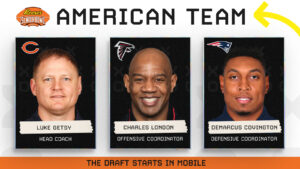 Image courtesy of @seniorbowl
Since last March when he was spotted working with players alongside Jerod Mayo and Brian Belichick at a Boston College spring practice, DeMarcus Covington has had his eyes on young college prospects while also coaching the defensive line to a strong season despite missing the playoffs.
Now, he'll have a chance to get up close and personal with the most elite college talent in the country as the defensive coordinator of the American Team in the Reese's Senior Bowl. Chicago Bears offensive coordinator Luke Getsy will serve as the team's head coach and Atlanta Falcons quarterbacks coach Charles London will be the OC.
This is good news for Patriots fans that think Bill Belichick and his staff need to put the same amount of work in they were 10 o 15 years ago. The coaching staff is now going to have multiple eyes and ears around other high caliber prospects at the East-West Shrine game and they'll have Covington double dipping, hopefully gaining the ability to identify potential foundation builders in the draft while working with the elite of the elite in Mobile, Alabama. Zay Flowers and Jaiden Woodbey should also be under the watchful eye of Covington and the rest of the staff between now and April as both local guys could immediately help on their respective sides of the ball.
This is also a fantastic development opportunity for everyone involved. The lack of quality assistants behind guys on their way out has been a big problem over the last few years. Both of these coaching experiences will allow multiple guys – particularly Covington who is ascending within the NFL ranks – to have hands-on access with every bit of scouting, game planning and play calling in these showcase games.
Covington will be entering his seventh year with the Patriots after working with both the outside linebackers and defensive line. Before joining New England's staff, Covington was a grad assistant at Alabama-Birmingham (2012) and Mississippi (2013-2014) and a defensive line coach at UT Martin (2015) as well as co-defensive coordinator at Eastern Illinois in 2016.
Executive director of the Reese's Senior Bowl Jim Nagy had a tweet saying "excited to get DeMarcus Covington to Mobile. Came highly recommended from @Patriots."