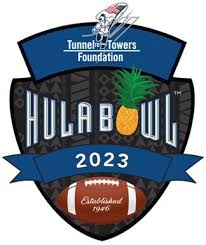 The Pre-Draft All-Star circuit kicks off this afternoon with the Hula Bowl in Orlando. Six players from Division One programs in New England have committed to playing in the game as far as we know.
Ed Lee, WR, URI
Caleb Warren, TE, URI
Jordan Jones, CB, URI
Liam Anderson, LB, Holy Cross
Jaiden Woodbey, S, B.C
Brandon Bouyer-Randle, LB, UConn
The game is an opportunity for these young men to showcase their skills in a game setting and prove that they are good enough to play at the next level.
Scouts from the NFL, CFL, XFL and USFL will be in attendance to evaluate the talent on hand. While the goal is to play in the NFL, professional football is professional football. With multiple leagues now, the opportunity to play professionally is available to more players. These young men will have an opportunity to showcase their skills.
The game kickoffs at noon and we will have updates throughout the afternoon. Draft season is upon us. It is a great time of the year.
New England Football Journal has seen all of these young play in person. No one in the region is better equipped to give you the draft anaky