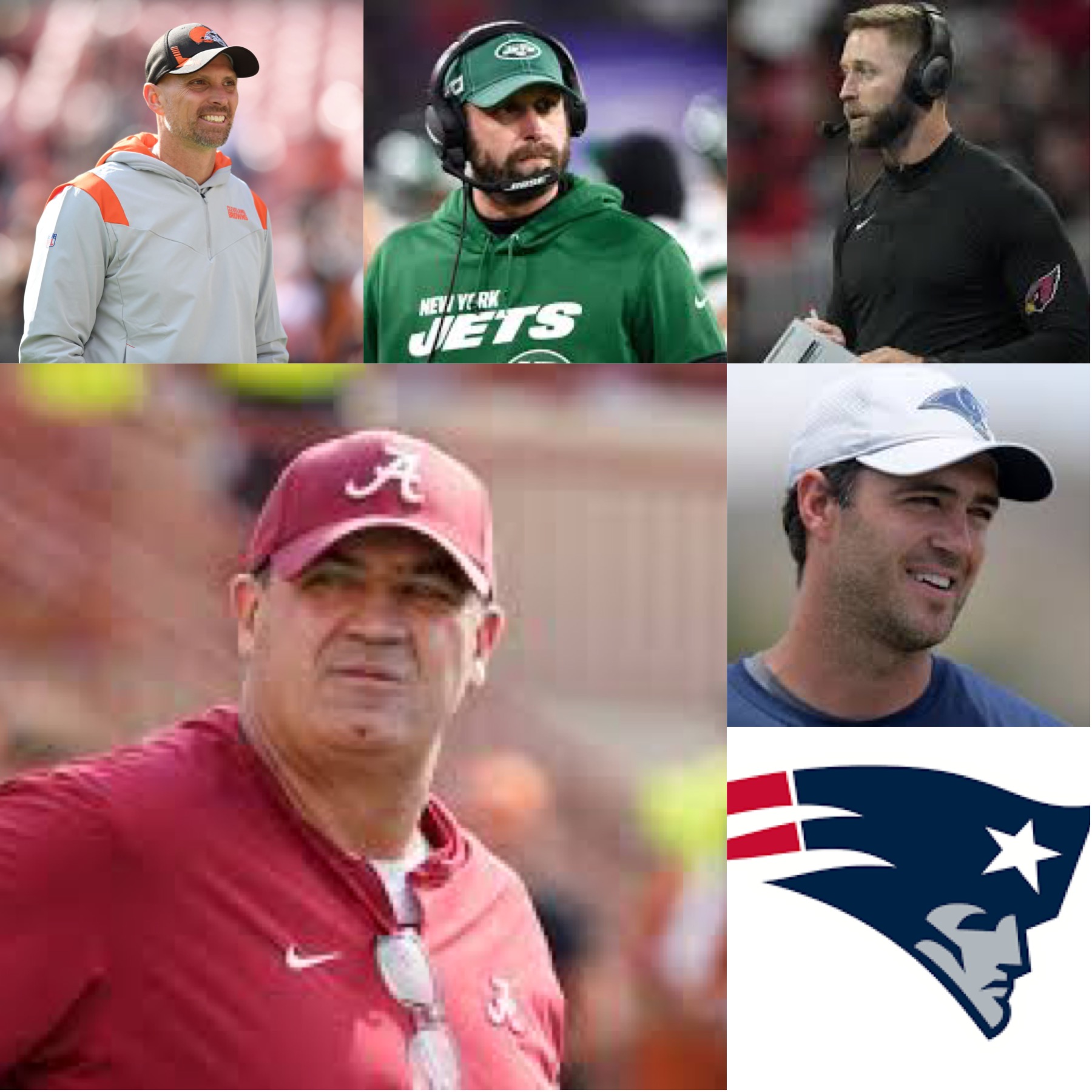 Now that we know the Patriots will be hiring an offensive coordinator, let's talk realistic names for the position. Let's not waste time combing through coaching staff rosters to pull candidates out of our rear end.
Here are some realistic options.
1. Bill O'Brien, Offensive Coordinator, Alabama: O'Brien is technically a free agent. He will garner a lot of interest. Tennessee for example is a team to keep an eye with Mike Vrabel there. The Patriots will still be the favorite to land O'Brien but they will have competition. O'Brien is the best available candidate for obvious reasons. He has experience in the Patriots system, he is a proven play caller who has been a successful head coach and he has local ties, which doesn't really mean anything but it doesn't hurt. Even though Bill Belichick has conceded that last season was a failure offensively, he is still going to want someone he is comfortable with. O'Brien checks off all the boxes.
2. Kliff Kingsbury, Former Cardinals Coach: Kingsbury would make sense from a connection standpoint but if the Patriots were to hire him, it would be a clear departure from they have done under Belichick offensively the past 22 years. Kingsbury is a Gun, Pistol Air-Raid coach. His system would be drastically different than what the Patriots have done under Belichick offensively.
3. Adam Gase, Former Jets Coach: Gase has been out of football since being fired by the Jets. Belichick is known to hold him in high regard and he is the type of coach who I think Belichick would give some freedom to in regards to bringing in some of his ideas and concepts. Despite that, I think Gase is a long shot hire but he is a proven coordinator who can work quarterbacks and get the most out of them.
4. Zac Robinson, Rams QB Coach, Pass Game Coordinator: Robinson was a Patriots draft pick in 2010 so there is some familiarity with him. The Patriots visited with Arizona University Head Coach Jedd Fisch and his offensive staff last off-season to learn about the Shanahan-McVay West Coast offense. Robinson is well versed in it. The only question is, will he stick around? If he turns the Patriots fortunes around offensively next season, Robinson will likely be a head coach in 2024.
5. Chad O'Shea, Wide Receivers Coach/Pass Game Coordinator, Cleveland Browns: The former Patriots assistant is well versed in the Patriot Way after spending 10 years working under Bill Belichick. He won three Super Bowls with the Patriots. O'Shea knows the system and he has coordinator experience working under Brian Flores in Miami in 2018. He has been with Kevin Stefanski for the past three seasons. He knows the West Coast Offense and he could bring a lot of the outside zone, boot/naked concepts that the Browns run to New England. Although a long shot, O'Shea would be a safe hire for Belichick.
Depending on how wide a net the Patriots cast, there could be other candidates as well. Tennessee Titans Pass Game Coirdinator Tim Kelly has coordinating experience and is familiar with the offense. Mick Lombardi is currently the Raiders offensive coordinator but he doesn't call the plays. Could the son of Mike Lombardi be interested in coming back? Then there is tight ends coach Nick Caley whose contract is up but is rumored to be on the Jets radar for their vacant offensive coordinator job.
Belichick will have some options. It will come down to trust and a willingness to go outside the family. If he's willing to go outside of his coaching circle, Belichick could really spice things up with this hire.