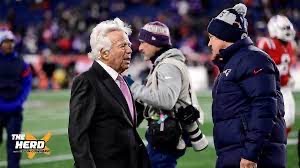 Image courtesy of Fox Sports
The Patriots were rather un-Patriot like on Thursday night.
Right around 7 P.M., the team released a statement that said the following:
"The New England Patriots and Head Coach Bill Belichick have begun contract extension discussions with Jerod Mayo that would keep him with the team long-term. In addition, the team will begin interviewing for offensive coordinator candidates beginning next week."
The news on Mayo comes on the same day that the Carolina Panthers asked and were granted permission to speak to Mayo for their head coach job. Mayo was also (and presumably still is?) set to speak with the Browns about their defensive coordinator opening. Either way, a team-released statement about any kind of contract negations is unheard of. It's of course the right move, and maybe one day the hope internally is that Mayo is the successor to Bill Belichick. If not, at the very least, you've got to think he would get the actual title of "defensive coordinator" with a new contract.
Speaking of titles, the usage of the words "offensive coordinator" is surprising given Belichick's past history and his disdain for using them. Suddenly, not only does it seem like Robert Kraft is finally giving the fans answers whether Belichick likes it or not, but it appears Bill will have to go outside the organization for this one.
The 2023 offseason is only days old, and we're already seeing the Krafts remind everyone – including the head coach – that they're still at the top of the food chain at 1 Patriot Place.