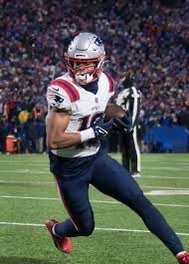 Image courtesy of Mark Konezny/USA TODAY Sports
With free agency looming, Jakobi Meyers continues to earn accolades as his price goes up.
On Thursday morning, the New England Patriots announced that Meyers has been selected as the recipient of the 2022 Ed Block Courage Award. The honor is bestowed annually upon a player or multiple players that  best exemplify the principles of courage and sportsmanship while also serving as a symbol of professionalism and dedication.
Each team's winner will all be honored at the 45th Annual Ed Block Courage Awards Banquet at the Baltimore Raven Courage House on April 2, 2023. The award is named after Ed Block, a long-time head athletic trainer for the Baltimore Colts and a respected humanitarian dedicated to helping children. Guys coming back from gruesome injuries with significant rehab, or guys that go above and beyond with charitable endeavors often win the award.
The award has been presented since 1986 by the Ed Block Courage Award Foundation, which is a 501(c)(3) charitable organization that is sanctioned by the NFL and the Professional Football Athletic Trainers Society (PFATS). The foundation is committed to heightening awareness of the plight of abused children in cities throughout the league. Proceeds from the annual Courage Awards event benefit the Foundation's Courage House National Support Network For Kids.
Meyers – who said during breakup day Monday that he was hurt most of the season – led the team and set career highs with 804 receiving yards and six touchdowns. Meyers also finished second on the team with 67 receptions.
Meyers is going to get paid a large chunk of money this offseason. Whether it's here in New England remains to be seen, but after making his mark on the league as an undrafted free agent, Meyers has a chance to make more money in one contract than he ever could have dreamed of. It's hard to think he'll take a hometown discount of sorts, unless he really just wants to play with Mac Jones.
Meyers was also given the Ron Hobson Media Good Guy Award this season by the beat writers covering the team. Meyers always had a smile and was willing to speak whether it was after his required availability at the podium or following a tough loss. Meyers was a true professional in every sense of the word and would leave a huge void in the locker room if he does get paid somewhere else.
Meyers joins an impressive list of former Patriots players to be given the Ed Block Courage Award:
Brandon King (2021)
Devin McCourty and James White (2020)
Julian Edelman (2019)
Nate Ebner (2018)
Matthew Slater (2017)
Nate Solder (2016)
Jerod Mayo (2015)
Rob Gronkowski (2014)
Sebastian Vollmer (2013)
Logan Mankins (2012)
Marcus Cannon (2011)
Wes Welker (2010)
Tom Brady (2009)