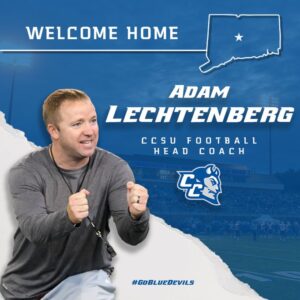 Image courtesy of @CCSUfootball
It was 12 years ago when Adam Lechtenberg helped lead the CCSU Blue Devils to a Northeast Conference title as the co-offensive coordinator.
Well, now he'll have a chance to lead the team back to prominence as the head coach. On Wednesday evening, Lechtenberg was named as the 15th head coach as the program enters its 84th season.
"We extend an enthusiastic, warm 'welcome back' to Mr. Lechtenberg and his family as they return to Central Connecticut State University," said CCSU President Zulma R. Toro on a statement posted to the team's website. "Coach Lechtenberg's commitment to the social, academic, and athletic experience of student-athletes is in line with the core principles of our university."
Lechtenberg served as the Blue Devils co-offensive coordinator for both the 2010 and 2011 seasons. The offenses ranked in the top-third in the country in almost every category, and the 2010 squad led the NEC in nine different categories.
"It is a pleasure to have Adam back as part of our Blue Devil family," said Director of Athletics Tom Pincince. "He has coached, recruited, and excelled on the field at each stop of his career. He impressed during the interview process with his preparation, passion, and plan for success – athletically and academically – for our student-athletes and football program. That attention to detail was a key. This is an exciting day to be a Blue Devil."
Not only is Lechtenberg a familiar face returning, but he's bringing a whole lot of other experience back with him.
Lechtenberg spent the last six years working in the ACC, serving as an assistant to Justin Fuente and he was the Virginia Tech running backs coach and offensive recruiting coordinator the last two seasons. Before that, Lechtenberg worked with Fuente at Memphis from 2012-15, serving as director of player personnel and he acted as a liaison between the football program and various other departments like academics, admissions and housing. Lechtenberg also oversaw the Tigers' walk-on program that helped fuel the on-field turnaround at Memphis under Fuente.
This is a big hire for CCSU. The NEC is suddenly one of, if not the most competitive conference in all of FCS, right there with the CAA. Bringing a guy in with Lichtenberg's resume and direct knowledge of knowing what it takes to win in this area brings instant credibility in the locker room and a belief that things can turn around quickly. Just look at Stonehill last season in their first year as a member of the NEC. Immediate turnarounds aren't easy, but they're very, very possible.
"I am thrilled for the opportunity to serve as the head football coach at Central Connecticut State University," added Lechtenberg. "I would like to thank President Toro, Sal Cintorino, Tom Pincince, and the entire search committee for their confidence to entrust me with this responsibility. I enjoyed my time at CCSU and look forward to returning and making more championship memories."