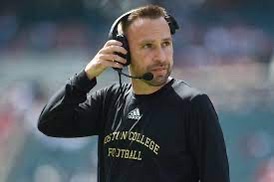 By Kevin Stone
Staff writer
If the offense isn't significantly better over in Chestnut Hill this year, I'm not sure what to tell you anymore.
According to a John Brice report from FootballScoop on Wednesday night, the Eagles and offensive coordinator John McNulty are parting ways after just one season with the position. This will be the third OC in four years under Hafley.
The injuries up front and to Phil Jurkovec were obviously huge issues, but it never felt like things clicked at any point no matter why was out there. Sure, there were flashes against some bad teams (except for NC State and like a quarter against Clemson), but no one covering or watching the team ever got the feeling like consistency was close. Everything was a struggle and someone had to take the blame.
For a team that prided itself on being able to run the football for basically the last 20 years if not more, the lack of a running game whether it was Frank Cignetti or McNulty was a glaring problem. This past season was historically bad in that regard. An immediate name for a replacement that comes to mind is Mike LaFleur, who was just fired by the Jets and has worked with Hafley previously in both San Francisco and Cleveland. Another far fetched one but one that would be fun as hell for all of us is Kliff Kingsbury. If he ever wanted to head back to college after his stint with the Cardinals, why not quickly make a name for yourself again by turning this program into a national title contender? That one's probably a pipe dream compared to LaFleur, but in today's wild world of college football you never know.
I would think that in-house candidates like QB coach Steve Shimko or wide receivers coach Darrell Wyatt could be strong choices as well if Hafley doesn't want to go outside the program this time. Either way, you've got to think Hafley makes a hire sooner rather than later so whoever it is can get up to speed with Emmett Morehead and then jump right into the spring ball process.