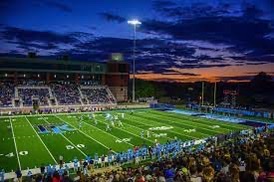 Image courtesy of URI Athletics
For the last two seasons, URI head coach Jim Fleming has had his team on the doorstep of a CAA title and an FCS playoff berth.
After coming up short in 2021 and 2022 despite garnering some Top 25 recognition during the year, it feels like 2023 is sort of a "now or never" type of situation for the boys from Rhode Island. The CAA released 2023 schedules on Tuesday and once again, there should be a whole bunch of support behind the Rams in their pursuit of the postseason this year.
The schedule is below:
Aug. 31 – at Georgia State
Sept. 8 – Stony Brook*
Sept. 16 – at Maine*
Sept. 23 – at Villanova*
Sept. 30 – Bryant
Oct. 7 – at Brown
Oct. 14 – Richmond*
Oct. 21 – at UAlbany*
Oct. 28 – New Hampshire*
Nov. 4 – BYE
Nov. 11 – North Carolina A&T*
Nov. 18 – at Towson*
* CAA Football contest
URI should conceivably start 2-0 before heading to Maine for the Black Bears' home opener. We'll know early with that Villanova game whether or not the Rams will be in the race this season in arguably the best conference in all of FCS. If URI can pick off UNH heading into a bye week, that'll provide an opportunity to have quite a bit of momentum heading into those last two weeks.
No matter what, the Fighting' Flemings should have one hell of a product on the field once again.