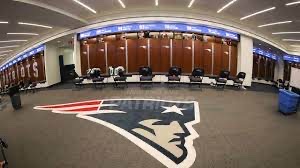 Image courtesy of New England Patriots
By Alan Segel
NEFJ Contributor
FOXBOROUGH — Think about it.
Think if your life was basically programmed for five months. You get up pretty much at the same time, you eat at the same time, you work at the same time in a job that requires a focus and a skill so great that only 1,696 people can do your job. If you compare that number with the 332 million people in the United States, you are doing something that percentage wise is infinitesimal to the rest of the population. You are also doing that job with great risk of injury but you are not doing it alone. There are 52 other men you do the job with and the seriousness and the toughness of the job brings you close together that you form a "brotherhood".
Except for the 14 teams that qualified for the NFL tournament(aka the  playoffs) Monday was the end of the 2022 line for the rest of the 18 teams. It meant that 954 human beings had to report to their teams, pack up their belongings and head out on the road. It is a road that is filled with sadness in some cases, anxiety in some cases, questions in all cases, and a schedule that is now completely vacant of structure in terms what time you need to be in a certain place.
The Patriots, for the second time in three years, joined their non-playoff brothers in cleaning out their lockers at Gillette Stadium. The football sons of Robert Kraft arrived at this point due to an underachieving 8-9 record. Bill Parcells always said you are what you are and indeed these Patriots deserved this record. The inconsistencies that started at training camp in August found their way into a regular season that saw the Patriots beat only three teams with a winning record; The Dolphins, Lions, and Steelers who were all 9-8.
The mood in the locker room was quiet as the players went about gathering their belongings and cramming them into plastic bags in some cases and more formal luggage in others. They were definitely wishing they could be preparing for practice instead of packing. However, the reality of Sunday's 35-23 loss in Buffalo set the stage for one last chance to see teammates, tell a few jokes, reminisce about the season, think about what could have been and then say goodbye. In some cases, it is goodbye until OTA'S (organized team activities) while in other cases it is goodbye. No team is ever completely the same.
"This is year seven in the league and it is a business at the end of the day", said Patriots defensive back Jalen Mills. "You know year in and year out, from the start of the year until the end of the year, that things are always going to be different, whether it is players, training staff, coaching staff, whatever it may be it is usually never the same"
He is 100% correct. An NFL team never stays the same. Some players retire (Devin McCourty and Matthew Slater ??), players are traded, players are cut, and some players hit free agency, such as wide receiver Jakobi Meyers.
For the last three seasons Meyers has led the team in receiving. It is something nobody would have seen coming when he signed on as an undrafted free agent from NC State in 2019.
He is a hard worker and this year he says he grew a great deal. "I feel like I got a lot of tests this year, a lot of physical and a lot of mental tests", Meyers told me. He also won the Ron Hobson Good Guy Award, which is given to the player who helped the media do its collective job the most in a particular year.
The difference right now for Meyers, as heads to the off season, is that he is unemployed. He is a free agent who has earned an average yearly salary of nearly 4-million. His statistics though indicate he is in for a hefty raise. It is suggested by some pundits that Meyers belongs in a category with fellow wideouts Allen Robinson and Corey Davis. If teams see him that way, he could be in for an average annual salary of 12.5 million dollars.
It remains to be seen if the Patriots view him that highly and will pursue him in free agency. Meyers has said he would like to stay here and he does have a great relationship with Mac Jones. However, at this juncture he says "I have not really gotten to that point yet" when I asked him about a new deal here or other opportunities around the league.
My personal feeling is that the Patriots should do everything they can to sign Meyers. He is a team first guy and he has had growth every year. However, before the Patriots make decisions on players like Meyers they have to decide what direction they headed in terms of their offense. Bill Belichick will be looking at his entire football operation over the next several days and that includes deciding on what changes he needs to make. Owner Robert Kraft will be in on those discussions and judging by Kraft's letter to season ticket holders expressing unhappiness about the Patriots performance and pledging to improve over the offseason, the status will not be remaining quo.