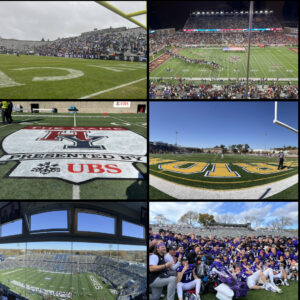 What a year it was for the 16 local Division 1 programs.
Seemingly every single week, Holy Cross remained the hottest story in the region and even nationally, while UConn became the biggest surprise of the season. BC's ugly year was stunning to watch unfold, and both the CAA and the Ivy League lived up to the hype with some wild races that came down to the final day of the season. Even Stonehill arrived on the scene in impressive fashion and Merrimack showed its close to becoming a national championship threat.
With so many amazing moments to choose from John, Adam and I all picked our Top 3 moments in New England college football this year. Enjoy and let us know if we missed any!
JOHN
1. Holy Cross Hail Mary: Holy Cross Hail Mary win over Buffalo was the number one moment in Division One College Football in New England this season. It was the signature moment in what was a great season for the Cross.
2. Brown upsets Penn: Bruno got the signature win James Perry and his staff were waiting for. The Bears have struggled in recent years but beating Penn, who was in first place in the Ivy League at the time was a big win for a program still rebuilding.
3. UNH beats Maine in a thriller: The Wildcats capped off an improbable turnaround season by beating the rival Black Bears 42-41 in overtime. The win gave UNH a share of the CAA and it clinched a spot in the FCS playoffs.
KEVIN
The Holy Cross Hail Mary to beat Buffalo – I mean, how could it not be? That game sort of sparked the entire magical run that the Crusaders went on, and also allowed the rest of the country just to see how good Jalen Coker and Matthew Sluka were. I would've put the playoff win against UNH on here simply because the atmosphere was unforgettable, but nothing supersedes a Hail Mary.

The Game, Harvard vs. Yale – Selfishly this was my favorite game of the year. Having never covered or even been to 'The Game' until this year, the hype absolutely lived up to it and then some. From the atmosphere around Harvard Stadium at 8:30 A.M., to the pregame skirmishes, to the coin toss skirmish, to the game itself which was an absolute thriller. The sold out crowd on a crisp fall day, with the Ivy League title in the balance, there was simply nothing like it. The Bulldogs clinched the title that day and watching their fans storm their rival's field and celebrate is something I'll never forget.

UConn's upset of BC – Having been there for this one too, I can tell you it's actually one of the coolest things I've covered. Not that there was any real field storming or anything like that, but just seeing fans' reactions on social media and then seeing and hearing head coach Jim Mora speak postgame, you could truly feel the program changing in that very moment. Obviously, we all know that sparked a fantastic finish and led to a bowl game, but it's not every day you can say you were there when a program truly turned the page, I was lucky enough to experience that.
-I'm cheating here and adding one honorable mention because I had to get it in…Merrimack's win over Sacred Heart. That was also one of those games where you could feel just how much it meant for the program and sort of felt like a turning point moving forward. Epic atmosphere that day in North Andover for a game that came down to the very last play.
ADAM
The Holy Cross Hail Mary to beat Buffalo — This was an easy one, and maybe the top local college football moment of the last few years. Jalen Coker's 46-yard touchdown catch from Matthew Sluka in a 37-31 win was electric.

DJ Linkins' touchdown catch in UNH's 31-28 win over URI — This moment was critical in UNH making the FCS playoffs and completing its turnaround season. With 17 seconds left, Linkins caught a 26-yard touchdown pass from Max Brosmer for the win.

UConn beating Boston College, 13-3 — This was arguably the result of the season for FBS teams in New England. The Huskies beating BC added a legitimacy to their turnaround that maybe wasn't there previously. With this win, UConn arrived in a big way.