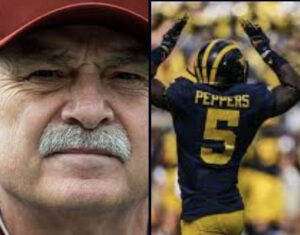 We've all seen and heard Don Brown's phenomenal rants and sayings over the years. He's a legend in the game of football not just for his antics, but for his mind too.
We all think he'd be extremely difficult to play for as well, probably run you into the ground and ultimately make you puke an hour hour into the first practice. That's the vision most people probably have when it comes to playing for coach Brown, but is that really what it's like? Is there more to Brown's methods than we know?
I caught up with former Michigan Wolverine Jabrill Peppers inside the Patriots locker room after practice on Thursday to find out before this year's version of the maize and blue get ready to play in the College Football Playoff semifinal. Peppers played for Brown and immediately lit up when I asked him to talk about the legend himself.
Last week during UMass' signing day, Brown said he uses guys like Peppers and Patriots linebacker Josh Uche as prototypes to this day while he's scouting high school talent. Peppers took a moment to ponder what that meant to him.
"It's a tremendous compliment, especially coming from Coach Brown," he said. "He's coached a lot of great players. Me and Josh, we definitely excelled in his defense, so that definitely feels good."
Excelling in a Don Brown defense is pretty easy if you play like a rabid dog off a leash, which is how Peppers usually plays. But, what is it specifically that allows him and Uche  – and players like them, some who may one day be wearing a UMass jersey – to thrive?
"Freedom, the aggressive nature of the play calling, and to be honest, just being out there with a bunch of guys that play the same way," Peppers said. "Hungry, bought into the system, we won a lot of games playing that way for him."
One of the most intriguing things about Brown is his ability to connect with players despite the generational gap. Whether he needs to be loud and in-your-face, or friendly like an old neighbor may be, Brown finds a way to get through to everyone.
"It's a mixture of everything," Peppers said when asked what Brown was like on a day-to-day basis. "When he needed to be in our face he got in our face. He knew how to be chill, he knew how to be funny. One of his favorite things he used to say, he would say 'Who's in the B Gap? Nobody, I'm in the B Gap,' just stuff like that, he was cool."
While Peppers couldn't remember any particular locker room speech or practice antics that stood out above all others, there was and still is one universal sign from Coach Brown that indicates it's go time.
"He did give some memorable speeches, so really all of them. But, then when he put his hand up, and you see that pinky hanging, you knew it was time to go," Peppers explained with a big laugh.
To this day, the impact Brown has on his players – and hopefully the impact he's having on current players in Amherst right now – is long lasting. Peppers will be in the middle of a must-win game against the Dolphins on Sunday, and there may be a moment when he hears Brown's voice in his head on a given play.
"Just the aggressive nature," Peppers said. "Playing for the guy next to you, doing things that may go unnoticed or that don't show up in the stat sheet, taking on pullers, stuff like that," he added. "I'll still hear him out there all the time. I definitely still try to incorporate all that into my game."