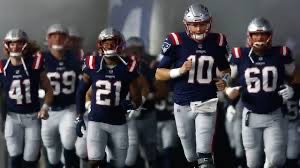 Image courtesy of NFL.com
The fact that the Patriots are in control of their own destiny with two weeks left in the season after all the ugliness this year is legitimately mind boggling.
Sitting at 7-8, if New England can beat Miami in the home finale this weekend and then go on the road and beat a Buffalo team that may be able to sit players the final week, the Pats will be in the playoffs. Now, it's a tall task – especially since this team still doesn't have a functional offense – but it's still a possibility.
Players and coaches know just how big of an opportunity they have despite everything that's gone on this year, and they aren't trying to let it slip away.
"It's an exciting week here getting ready for the Dolphins," Bill Belichick said to open his Wednesday press conference. "It seems like it's been a long time since we were just down there, but it has been. A lot of water under the bridge since then. Good football team. Look a lot like they've looked all year, like they've looked in the past offensively and defensively. Big physical team on defense. Have some fast players in the kicking game, some other physical guys and they're explosive on offense. So, they've looked really impressive at times. We know it's an important game here, obviously. So, we'll do everything we can to play our best game on Sunday. That's what we need to do and that's what it'll take. That's what we're preparing for."
For Mac Jones, the second-year QB has gone through quite a lot this season. From the new coaches around him, to Zappe Fever, to being called a dirty player, to people saying he's too demonstrative, no matter what, Jones has been under a microscope with seemingly every move he's made this season.
Still, he's well aware of how big of an opportunity the team has and as the old saying goes, anything can happen once you get into the tournament.
"Yeah, I think that's the word, is opportunity," Jones said Wednesday. "We have a great chance to kind of go out there and compete against a team that we're familiar with, but also a team that has played really well this year and has great players on offense, defense, special teams, great coaching. From top to bottom it's just a really good team that we're going to get to go against. So definitely starts with us just cleaning up things at practice, attacking each day and realizing what type of opportunity we have in front of us. You've got to understand what's at risk, what we want to get to and you just have to play your heart out, play for each other and go against a really good team."
Veteran Devin McCourty is one guy who may not have another chance at playing in the playoffs after this year, so there's a real emphasis on leaving everything out on the field this Sunday and seeing where the chips fall. If the Pats look up after the Miami game and still have one meaningful game left, that's all anyone can really ask for at this point.
"We've got a great opportunity to go out and get a win," said McCourty. "This is one of those games where you've got two teams with the same mentality, get a win and be in the playoffs…I think Bill (Belichick) said it the best this week, everything that you've got, anything that you're thinking about doing to help us win, you're not saving it for anything."