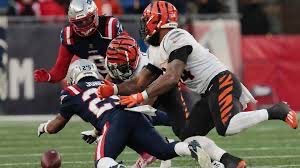 Image courtesy of AP
FOXBOROUGH – The Patriots were five yards from giving their fans a Christmas or post-Festivus miracle no one would forget.
Then, it went away as quickly as The Feats of Strength.
New England eventually cut it to four with 18 straight points, but a Rhamondre Stevenson fumble inside the five in the final minute ended any hopes of a memorable holiday miracle as the Pats lost in heartbreaking fashion 22-18.
While New England isn't mathematically eliminated from playoff contention, now sitting at 7-8, the Patriots will need to win the final two games and get some help along the way.
"Got the ball, was trying to make something happen. Probably doing more than I was supposed to do," said Stevenson. "Probably should have just went down. Ultimately they took the ball from me and I fumbled."
The fact the Patriots were even in position to take a lead was remarkable after playing lifeless football for the first 30 minutes and trailing 22-0 at the break.
The Patriots finally got a little life when Marcus Jones took advantage of a miscommunication between Joe Burrow (40-for-52, 375 yards, 3 TD, 2 INT) and Ja'Marr Chase, picking off a pass and taking it back 69 yards for a touchdown, but Nick Folk missed the extra point, making it 22-6 with 3:51 left in the third. The touchdown meant the New England defense had a TD in three straight times, the first time doing that since 2004.
The defense kept momentum with a three-and-out. On the ensuing Patriots drive, Mac Jones found Kendrick Bourne – who had a career day with six catches for 100 yards and a touchdown – for a huge 19 yard pick up down to the Bengals' 41 to end the third quarter with pressure coming from behind. It was also the first time New England crossed midfield all day. Another huge leaping grab in triple coverage from Bourne on third down set up first-and-goal at the nine. After two run stuffs, Jones hit Bourne from five yards out on third and goal in the back right corner of the end zone. The two point attempt was no good, leaving things at 22-12 with 12:58 left in the game.
"Just doing my job. Being there for my guys. That's all it is," said Bourne. "When my name is called that's all it is. It's not about me, it's about the team. So, once I have to go in the game, I need to be ready. That's all it comes down to. Just being ready for the opportunity. Everybody's situation is different."
The Bengals answered with another nice drive, but ultimately had to settle for a 43 yard field goal attempt that was wide left, keeping comeback hopes alive with 9:06 to go. Things really started getting weird on the ensuing drive. Bourne made an incredible toe-tap catch along the Pats' sideline that the New England ultimately had to challenge and won, putting the offense at the Bengals' 29. A poorly ran screen for -1 yard, an intentional grounding call and a false start quickly forced a third-and-29 situation.
Mac scrambled and heaved a ball towards the end zone that was tipped and fell right into the hands of Jakobi Meyers for a remarkable 48 yard touchdown. Folk missed another PAT, making ti 22-18 with 6:06 left.
"Honestly, I ran my route. I know the ball was supposed to go underneath and probably try to catch and carry it, but I saw Mac [Jones] break loose and give my guy Scotty a chance. I was trying to get around the ball. I figured he's a big, tall guy, and either he made the play, or tip it and I'd be there to catch it in case," Meyers explained. "Shout out to Scotty, I was there, right time, right place."
Matt Judon came up with a forced fumble on a third down Chase catch moments later and Marcus Jones recovered at the Cincinnati 43. A few players later with a goal-to-go situation inside the five, Stevenson had another catastrophic mistake for the second week in a row, fumbling the ball and the Bengals recovered to end any chances of the Festivus/Christmas miracle.
The Patriots won the toss, deferred, and quickly fell behind just five plays and 2:36 into the game. Cincinnati ran the ball just once on its opening drive, with the biggest play coming on the second snap in the form of a 39 yard circus catch by Tee Higgins down the sideline over a completely over matched Marcus Jones. Moments later, Joe Burrow and Higgins hooked up again for a nine yard TD, but the extra point was no good.
After an ugly Pats' three-and-out, Burrow led the Bengals right back down the field in 5:19. The Bengals marched 59 yards in nine plays and went up 12-0 when Burrow threw an absolute dime from 23 yards out to Trenton Irwin. The PAT was no good again, the Pats were called for unnecessary roughness, the Bengals went for two and didn't get that either.
After another putrid three-and-out that brought the boo birds and "we want Zappe!" chants out, the Bengals milked the rest of the first quarter. Nine seconds into the second, Evan McPherson hit a 28 yard field goal to make it 15-0 after the defense held strong in a goal-to-go situation.
The Patriots finally picked up a first down on their third possession thanks to Jonnu Smith, but quickly had to punt again three plays later. Another methodical drive for Cincinnati ensued – despite Judon picking up sacks No. 15.5 and Josh Uche getting sack No. 11.5 on the drive – and the Bengals marched into the red zone. Stunningly, Burrow made his first bad decision of the game and threw an interception to Devin McCourty at the New England 15 with 4:19 left in the half. The interception put Devin McCourty in third place in franchise history for both interceptions (34) and takeaways (40).
The momentum lasted about a minute though. Kendrick Bourne ripped off a 29 yard rush on the first play, but New England punted three plays later once again. Things only got worse as Burrow led a 12 play, 80 yard drive in 2:02 and found Irwin from four yards out to make it 22-0 with 14 seconds left in the half.
The halftime stats (Burrow 27 completions, Jones 23 yards…Bengals 303 yards, Pats 70…Bengals 22 first downs, Pats three) didn't really do the putrid first 30 minutes justice as boos rained down when the teams headed to the locker rooms.
The Pats opened the second half looking to go downfield more, as Mac tried two different deep balls to Tyquan Thornton and Kendrick Bourne. Both were good throws, but both were ultimately incomplete (Thornton's was a horrendous drop) and (stop me if you've heard this before) a punt followed. A sack, six yard completion and an eight yard completion followed by another punt after a Bengals punt brought out a "f**k Matt Patricia!" chant from the minimal crowd that was still hanging around in frigid temperatures.
Now, with just two games left, the Patriots will need to beat both Miami and Buffalo and probably get some help along the way to be a playoff team.
"I think obviously tough loss for us here. Definitely things I want to do better. And just got to keep working, got to watch the film and keep working together I think. We didn't quit," added Mac Jones. "We fought hard and at the end of the day, we got to score more points. And we got the ball moving a little bit. But just want to capitalize and score more points. So falls on me as a quarterback. And super disappointed, but also a lot to look back on and realize that we have fighters on this team. And that's tough to say in a loss, but we do, we have fighters on this team. I thought everybody on our offense and defense and special teams fought to the end."