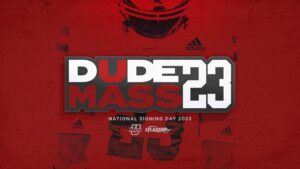 Image courtesy of @UMassFootball
If you think Don Brown has just been sitting back and relaxing since UMass finished its 1-11 season a few weeks ago, then you don't know Brown or his staff very well.
The Minutemen coaches have been busy recruiting Brown's first true class since he returned to coach the program. On Wednesday, UMass had six guys sign NLI's while there's also been quite a bit of movement in the portal.
Here are the six commits (non-portal guys) that pledged their allegiance to the maroon and white:
Donovan Dyson – Bowie, MD (Edge)
Peyton Miller – Westernport, MD (OL)
Ahmad Haston – Royal Palm Beach, FL (QB)
Christian LeBrun – Cherry Hill, NJ (Viper)
Gyre Roberts – Erie, PA (LB)
Zach Anderson – Gaithersburg, MD (OL)
Brown met with the media via Zoom on Wednesday morning to talk about not only this class, but what else the staff will be looking for in the days and weeks ahead leading up to spring ball, which will be here before you know it.
"When you look at the number and someone says 'coach, you only signed six guys,' well, the reality is, we've got other guys that we're dealing with in the group, but portal guys aren't going to be discussed today," he said. "Obviously, you're always looking for defensive linemen, the linebacker scenario – we really felt like we have good, quality depth at that position on our team – so we went with the developmental guys. In the defensive secondary, which is really a strong suit for us, we needed to make sure we got a safety and a corner and we did address that through the portal. On the offensive side, obviously the quarterback positon was paramount in terms of our thinking.
"We've got to have depth there. We've got to have a number of guys there so we can stay functional when and if things happen and it's happening across college football. The QB's are so active in the run game, you have to keep those guys healthy and have depth there as well. Wide receiver is a big piece. The offensive line is a yearly chore, trying to make sure we're getting developmental guys and older guys that can step in and replace people that are potential starters."
Brown has been at this for quite some time now, whether he was recruiting at Northeastern, Michigan, Arizona or now back at UMass for a second time. So, has his message changed? Or does Brown follow a script of sorts?
Brown certainly isn't a "script" type, but there are things important to him that he will preach to each and every recruit he talks to.
"I don't know if it's a script, but the bottom line is I have certain things I believe in and I'm going to sell that message," Brown explained. "I'm going to sell those things. High character, being tough, playing fast, caring for one another, leadership coming from within…solve your problems with aggression. All those scenarios have to be pushed and that element's got to be pushed hard during the month of February when we're attacking winter workouts and they're moving to February to the beginning of March.
"The thing that's going to be nice this year, is in essence, it's not going to be full learning mode. There'll be a small group of guys that we'll have to integrate and we'll have to get up to speed from a concept standpoint, but it's nice now because the players will be able to help one another as well from role modeling, to actually helping the guys get caught up to speed."
Wednesday was an important day for the staff, but it's the next few weeks and couple of months that will be most vital as Brown tries to expedite this Minuteman resurgence.
"We're going to go through a dead period here, so that's the first thing. Then, in early January, we'll continue working in recruiting with our emphasis being on the portal," Brown added. "The good thing for us…our kids are not back in school until the first week of February. If we're going to make any changes, we might have as good of a situation as we could possibly have to continue to fix our roster and add players because we don't start school until late. We can stay in business through the month of January, which, I think is a good thing.
"Recruiting will be the No. 1 piece we continue to work on and really selective. We've addressed some needs, now the big thing is, really be selective about the guys we're recruiting…once we get everyone back here, winter workouts will start, mat room will start, that's my favorite time of year."