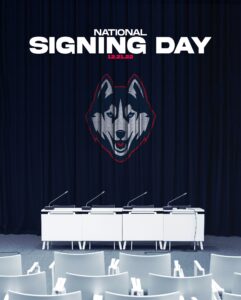 Image courtesy of @UConnFootball
Just two days after the Huskies finished up the 2022 season, UConn received commitments from 13 different players on Wednesday for National Signing Day.
The players joining the program are listed below:
Carsten Casady – Freshman, Offensive Tackle, 6-6/270, Rolesville, NC/Rolesville HS
Cameron Chadwick – Freshman, Safety, 5-10/174, Plainfield, NJ/Immaculata HS
Nader Chirchi – Freshman, Tight End, 6-6/248, Alexandria, VA/Edison HS
Cleto Chol – Freshman, Defensive End, 6-5/233, Salem, MA/Proctor Academy
Oumar Diomande – Freshman, Inside Linebacker, 6-0/210, Bronx, NY/John F. Kennedy HS
Zackary Drawdy – Freshman, Wide Receiver, 6-1/183, Yulee, FL/Yulee HS
Jackson Harper – Freshman, Wide Receiver, 6-1/187, Simsbury, CT/Avon Old Farms School
Christopher Hudson – Freshman, Cornerback, 5-10/172, Windsor, CT/Saint Thomas More School
Toriyan Johnson – Freshman, Offensive Tackle, 6-7/320, Boston, MA/Proctor Academy
Jarvis Jones – Freshman, Wide Receiver, 6-1/168, Plainfield, NJ/West Orange HS
Brandon Kelley – Freshman, Defensive Line, 6-5/222, Pottstown, PA/Owen J. Roberts HS
Tucker McDonald – Freshman, Quarterback, 6-1/189, Holden, MA/Wachusett HS
Toluwanimi Tunde – Freshman, Offensive Tackle, 6-5/268, Ilofa, Kwara State of Nigeria/Royal Imperial Collegiate (Ontario)
UConn wrapped up a remarkable season at 6-7 and the exposure the team received nationally for its impressive turnaround this season probably had a lot to do with the NLI's Jim Mora and the rest of his staff received. Although, most – if not all of the 13 signees – were on board even before they saw the season unfold.
Mora met with the media on Wednesday morning via Zoom to talk about another big day for the program.
"Most of these guys committed before the season and that's a tribute to them," he said. "They saw our vision and then watched the progression of it and certainly we're not there yet…I'm looking at the list and all of these guys committed pretty early. We appreciate them having the faith in us."
Mora was also asked how difficult the balance was between bowl prep the last few weeks and recruiting. Having guys committed already is nice, but in the days where the transfer portal creates just absolute chaos.
"You've got to find that time to balance," he said. "We stayed in touch with the high school players that signed today and working on guys in the portal. Getting ready for a football game, recruiting 2024's…it really never stops, it's a cycle that never stops. It's your job and you make time for it, but fortunately, we had really good relationships with these guys and felt very good about all of them signing. We didn't lose anyone we didn't want to lose. It's a good morning."
There's also an eye even further down the road already too.
"it's really interesting, as soon as this was done, the second we got done with this, you start watching next year's guys, or I was watching portal guys, kind of while these (current recruits) were coming in actually" Mora added with a grin. "It's just very different than what it used to be like. It's a challenge, but it's fun."
Perhaps the most important part of the 2022 National Signing Day for Mora and his staff was the comfortability factor. While he had time to get adjusted last year, the full staff wasn't in place. Now, having a real, full season under their belt was a massive advantage for the program this recruiting cycle.
"I think the most important difference was the relationships our staff and myself were able to build with these young men and their families before signing," said Mora. "Last year was just a rush, this year it was a process that covered the full year. A lot of these guys are guys we've been in touch with since I came to Connecticut and our staff came to Connecticut. There's a lot more comfort and I think…we absolutely know a lot more about these guys than the young men we were taking last year.
"That's a big difference because that familiarity that helps. You're more secure in your decision about them being able to fit into your program, fit into your culture and that they're the type of young men we want on campus. You feel more invested in them and that's a real positive, that's one of the values of recruiting high school athletes compared to the portal."
Recruiting is now the wild, Wild West these days and looks very different than what Mora grew up around, but Mora and the rest of the UConn staff seem to be very happy with the newest crop of guys charged with continuing The Revolution.
"It was a different kind of morning," Mora added. "We're all kind of spread out and it's all done virtually now. Computers, you're not really sitting by the fax machine waiting for faxes to come in anymore. It's all done rather quickly. We're excited about the men we've singed. It has the makings of a good class.
"We'll certainly see as we go how it works out, but I think we added some potentially really good players and we're excited about it."