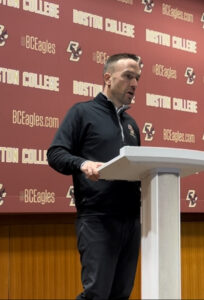 CHESTNUT HILL – So much for a 3-9 season keeping kids from wanting to go to BC.
On Wednesday's National Signing Day, Jeff Hafley, Director of Football Recruiting Jason Tudryn and the rest of the Eagles' staff had 17 kids commit to the program and there's still more to come. The newest members of the BC family are listed below:
Kahlil Ali (DB) – Pennsauken, NJ
Shawn Battle (DB) – Philadelphia, PA
Michael Crounse (OL) – Schnecksville, PA
Eryx Dugherty (DL) – Troy, MI
Carter Davis (DB) – Baltimore, MD
Palaie Faoa (LB) – Ewa Beach, Hawaii
Josiah Griffin (DL) – Springfield, MA
Reed Harris (ATH) – Great Falls, Montana
Nate Johnson (WR) – St. Petersburg, FL
Darrell Jones (RB) – Hyde Park, MA (Catholic Memorial)
Ryan Mickow (OL) – Ft. Lauderdale, FL
KP Price (DB) – Baltimore, MD
Jacobie Robinson (QB) – Henderson, TX
Jaedn Skeete (WR) – Hyde Park, MA (Catholic Memorial)
Holden Symonds (TE) – Melrose, MA (Governor's Academy)
Max Tucker (CB) – Hyde Park, MA (Catholic Memorial)
Montrell Wade (WR) – Tyler, TX
Hafley met with the media on Wednesday afternoon to talk about the commitments and what it means that they all decided to stay committed even after the tumultuous season.
"I think at every point, a lot of these guys were probably hearing it from other schools," Hafley acknowledged. "There were probably other colleges telling them 'BC's only got this amount of wins, you sure you want to go there?' and this and that, but I credit our staff. It's about relationships and a lot of these relationships have been for a year-and-a half plus. Part of going through something hard like that is you find out how convicted they are, how loyal they are and how much they want to be here. Most of them didn't waver and I think that says a lot about them. Maybe there were times when they did, and then they figured out that this was the right place for them."
What's most interesting is the balance Hafley is trying to strike between dipping into the portal for immediate results and still trying to build this program the old school way though high school talent. Hafley was asked about the surge of activity the program has had in recent days and if there's been a change in philosophy. For most of his time here, Hafley has said he'll use the portal when he sees fit, but he's always wanted to build the "regular" way in an ideal world.
"I've never said I don't want to go that route, what I've said is I don't want to build our team through the portal," he said. "I feel good about the young players here and I feel good about us being able to develop them and have them grow because I think that's how you're going to win at Boston College. Im not going to go out and get 15 out of the portal, but I've always said if we can find the right fit from a football standpoint, from a character standpoint that's going to keep our culture strong, then I'd look into it.
"I see with people being able to leave, it's very hard to manage a roster, so if you can go out and get a kid you think can play right away, or be in the two-deep, or at least compete for that, or if there's a coach that's coached him in the past, then I'm going to be aggressive. It just so happens I've been more aggressive, and I'm going to continue to be. I have a clear picture of our team right now and I have a clear picture of how the roster is shaping up. I think there's some spots where we need players, maybe some older ones, but that's not to say these freshman can't come in and beat them out, but if we find the right fit, we're going to look and evaluate."
Whatever route Hafley and the staff continue to go this offseason, Wednesday's class shapes up to be his best and one that could (and should) help set a foundation for years to come.