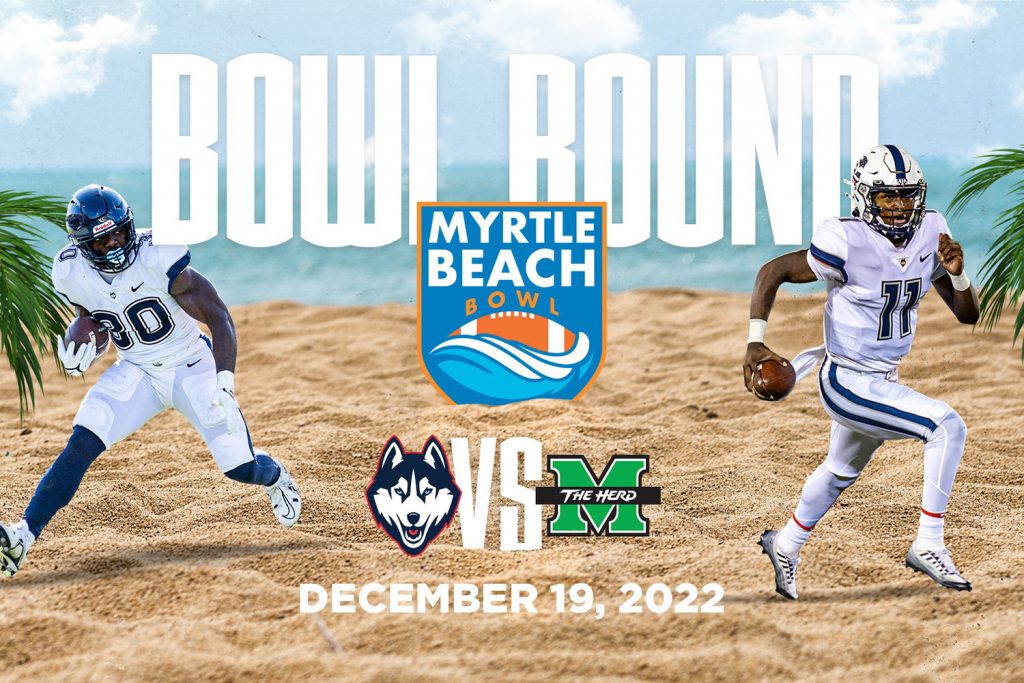 Courtesy of UConn Athletics
Kickoff: The Huskies will be making their first bowl apperance since 2015. Ironcically enough, the last timed they played in a bowl was the St. Petersburg Bowl in 2015 and their opponent that day was Marshall. The Thundering Herd won that game 16-10. So in essence, this is a revenge game of sorts for Jim Mora's squad.
The Huskies have gone through some lean years so to even be in a bowl game is a heck of accomplishment but Mora and his staff do not see it that way. They are playing to win. Simply being there today is not enough.
Here are four keys to the game for the Huskies.
1st Down: Ground and pound: The Huskies need to do what got them here and that is run the football. The trio of Victor Rosa, Devontae Houston and Robert Burns form one of the most productive backfields in the country. UConn is physical. They are not afraid to line up in big personnel and lean on people. Look for them to do that a lot today against a very good Marshall defense.
2nd Down: Throw the ball 20-25 times: Look for offensive coordinator Nick Charlton to be aggressive today in the passing game. UConn will take it's fair share of shots down the field. Zion Turner will be unleashed today as a passer. He is no longer a freshmen quarterback. Today, he is a sophomore and it is the beginning of what could be a big 2023 season for him.
3rd Down: Get consistent pressure: UConn's front seven needs to get consistent pressure on Marshall quarterback Cam Fancher. The true freshmen has played well but he does have a tendency to vacate the pocket and force the ball into double and triple coverage when throwing on the run. Getting pressure on him and forcing him to throw the ball into areas he shouldn't is the priority.
4th Down: Stack the box: UConn's front seven will have their hands full with Marshall senior running back Khalan Laborn. Laborn is the cataylst of the Thundering Herd offense. He rushed for 1,423 yards and 16 touchdowns this season. Look for a steady diet of eight man fronts from the Huskies as they try to slow down Laborn.
Extra Point: The Huskies are 3-3 all time in bowl games. Their last bowl win was the 2010 Papa John's Bowl, a 20-7 win over South Carolina.
Final Drive: UConn will have their hands full in this one but if there is one thing we have learned about this team, it is that they are resilient. UConn has proven this season that they can play with and beat teams that are "better" than them. Mora will have the Huskies ready to play. I think it will be a tough game to win but I think UConn finds a way and pulls off the mini upset over Marshall.