Image courtesy of @UConnFootball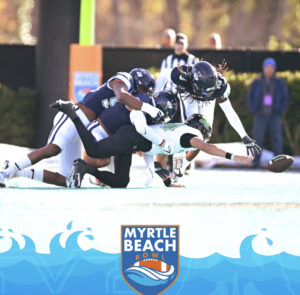 The Revolution has only just begun.
UConn may have lost 28-14 to Marshall in the Myrtle Beach Bowl on Monday afternoon, but the fight and resolve shown by the young roster down 28 in the second half should have Huskies fans excited for the future.
UConn finishes this remarkable season at 6-7, but there should be zero doubt in anyone's mind that head coach Jim Mora, offensive coordinator Nick Charlton and the rest of the program will use Monday as fuel this offseason.
"It is an extremely disappointed locker room and to me, that signals progress again," said Mora. "There was no one that was just satisfied to get to a bowl game. We came here to win. We had to overcome a whole lot just to get back in that game. It seems like there was a lot not going our way. I'm just proud of the wa our guys fought, they kept believing in each other."
It was a wild start in South Carolina and things only got crazier as the game went on.
Marshall easily moved down to the UConn red zone on the game's first possession, but the Huskies got a forced fumble from Ian Swenson on fourth-and-one that was recovered by Durante Jones. Unfortunately, one play later, Marshall got the ball right back at the UConn 16 when Zion Turner was stripped on the first offensive snap for the Huskies.
Two snaps after that, Corey Gammage Jr. hauled in a 14 yard TD reception for the Thundering Herd to take the early 7-0 lead. The Huskies quickly went three-and-out on the second possession, earning a whopping three yards on four plays those first two possessions. Both teams traded punts until big man Damion Barber picked off Turner as pressure was in his face. Barber easily grabbed what looked like an attempted screen pass and rumbled in for a 34 yard pick-six and a 14-0 Marshall lead with 3:23 remaining in the first.
UConn got a spark after the teams traded punts again when Devontae Houston broke off a 27 yard run into Marshall territory. Turner took off and brought the ball down to the 23 one snap later, but the drive stalled out and turned into a missed opportunity when Noe Ruelas missed a 48 yard field goal with 8:23 left in the second.
Marshall made it hurt, driving 73 yards in just four plays and pushing the lead to 21-0 on a 10 yard TD catch by tight end Devin Miller. On the ensuing drive, Turner hit Keelan Marion for 38 yards to put UConn in Marshall territory again at the 39. Two plays later, a fantastic Steven Gilmore interception on another deep ball was actually bobbled as he tried to keep one foot in bounds, saving the Huskies from another turnover. Facing third-and-eight, Victor Rosa (16/77/2 TD) rumbled his way to a first down. Two plays after that, a screen to Justin Holy moved UConn inside the 20 as Charlton got into a rhythm with the play calling.
Despite the movement, UConn's lengthy 15 play drive was all for nothing after Turner air-mailed a fourth down throw through the back right corner of the end zone from the Marshall 12 with, keeping the deficit at 21 heading to the locker rooms.
"We overcame kind of a disastrous start and kept fighting," said Mora. "That's what we're building here. Men of character that have a high standard that don't accept losing and don't make excuses. It's going to bode well for our future, but tonight…today, it was disappointing. I'm not going to lie to you. We didn't just come here to play in a bowl game. We came here to win."
UConn started the third quarter with the ball, but quickly went three-and-out. Things continued to go downhill as Swenson was ejected for a clear targeting call on Marshall's first drive in the second half. On the same drive, a pass interference call moved the ball to the Huskies' 14. Rasheed Ali finished things off with a seven yard TD run moments later to push the lead to 28-0.
The Huskies finally finished off an impressive drive on the next series thanks in large part to a big catch and run by Marion on a screen facing third-and-nine. That play set up Rosa for a 14 yard touchdown run one play later to put the Huskies on the board at 28-7 with 5:35 left in the third. The defense almost immediately forced a three-and-out and thanks to a shanked punt, the offense trotted back out at the Marshall 40. Four plays later, Rosa ripped off another touchdown run – his 11th of the season – this time from 24 yards out as the third quarter expired, cutting it to 28-14.
"No matter what the score, we need to keep fighting," Rosa said when asked what the mentality was during the comeback bid. "We can't fold under pressure, we need to execute. We was planning on coming back, that was the goal. Like Coach Mora said, we didn't come here to lose, we didn't just come here to make a bowl game, we came here to win and that was the job we needed to do."
Moments after a shot play for Marshall put the Thundering Herd near the UConn 40, Malik Dixon-Williams came up with an interception for the Huskies to keep momentum rolling. Two big plays by Rosa and Marion followed – with the help of a facemark call – and quickly put the Huskies at the Marshall 42. Mora was stunningly called for an unsportsmanlike conduct call after losing his mind following a missed PI call on Marion downfield, backing up the Huskies to the UConn 43 and creating a second-and-25 scenario. Looking at fourth-and-eight at the Marshall 40 following a chunk play to get most of the yardage back, a false start was called to make it fourth-and-13. The Huskies still decided to go for it and failed to convert with 9:57 remaining.
The defense continued to bear down, forcing another quick three-and-out. Another dead ball foul – this time on Marshall – moved UConn out to its own 45 two plays later. Looking at third-and-10, the Huskies got a PI call on a deep shot to Aaron Turner, putting the ball at the Herd's 41. A big catch and run for Turner on the next step set the offense up inside the 10, but a holding call pushed the Huskies back to the 18. With Zion Turner limping severely, he was picked off in the end zone by Micah Abraham with 5:09 to go. From there, Marshall was able to run out the rest of the clock.
It feels like UConn isn't just going to be a one-hit-wonder. There is a ton of young talent that just got some invaluable experience these last few weeks and most importantly, some extra practice time.
The Revolution has only just begun.
"Once again, disappointing, but we're not going to let it hold us back," Mora added. "We're going to work through it and we're going to get better from it."