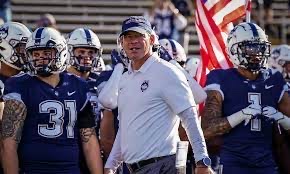 Image courtesy of David Butler II – USA Today Sports
If you've spent any time around UConn head coach Jim Mora or listened to him speak about his team for just a few minutes, you know a win is the only thing he cares about on Monday.
While fans, alumni and even some other members of the program revel in the team's first bowl trip in a long time, Mora has been focused on getting a seventh win, as a head coach should.
In the grand scheme of things, a win to end this remarkable season would be nice, but it's not imperative on Monday afternoon when UConn kicks off against Marshall at 2:30.
Simply being in South Carolina this week has been huge for the program. Everything for the last three weeks or so has been new and an experience that you can't really teach or explain.
From packing for a trip to a place many guys have never been too, to staying in a hotel for an extended period of time, to practicing in unfamiliar environments, to socializing at various events with the Myrtle Beach community and even the opponent at times. Everything this team has done during the week leading up to the game has been an important experience that will ultimately feed the beast and motivate guys in the coming years to not only get back to this point, but to get to an even better bowl game.
"During the year, we didn't talk a lot about down the road objectives," Mora said during a press conference prior to the Huskies departing Connecticut. "We always felt like the best thing to do was focus on getting better every day and being at our peak and playing to our max every game. But, we did have conversations about let's get to a bowl, let's send our seniors out with a bowl game.
"Now, most of them don't really understand what bowl prep looks like. As coaches, we're just trying to guide them through that."
Mora of course has plenty of experience in preparing for these "event" type games, so what does he think is the most important part about the preparation?
Keep it normal the closer you get to game time.
"The most important thing you can do, is the last two days, kind of hit our routine so we're wired in and ready to play," he said.
Part of the reason that UConn can still have a successful week even with a loss is because this was all so unexpected, especially as the season unfolded and the team was decimated by injuries. The Huskies are lightyears ahead of where anyone thought they would be at this point, and if you need proof of that, wait and see how recruiting goes these next few weeks. There's going to be some names deciding to head to Storrs that are going shake up the college football world. As it is, former UCF linebacker Eriq Gilyard recently committed this week and he's probably just the first of many.
No one expected this. Not this soon.
Although, there was one particular loss and a little bit of innovative thinking that changed the course of the 2022 season.
"After we got beat by Michigan (59-0), we're sitting here at 1-4. We gave up 148 points I think those three games, Syracuse, NC State and Michigan and we didn't score a lot," Mora said. "We kind of had a reset meeting. We had a reset meeting and that's where we kind of talked about some objectives…and we decided to create our own conference. We decided we were going to take the remaining seven teams on our schedule and we were all going to start 0-0. That was going to be our conference and we were going to compete against those seven teams in the conference.
"Our goal was to win the conference and we won the conference. We went 5-2 in "conference play" and I gave out shirts last week, '2022 UConn-ference champions' and it seems really silly, but it helped us focus after we came through what was a heck of a tough gauntlet there."
As an independent school, UConn may have had to create its own conference championship and championship t-shirts, but win or lose this Monday, the Huskies have already had another successful week just by having The Revolution invade Myrtle Beach.