Image courtesy of Getty Images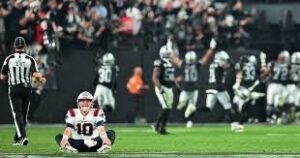 The Miracle in Sin City has quickly replaced the Miracle in Miami.
Either way, it's not good for the Patriots. A 30-24 loss to the Las Vegas Raiders on Sunday can only be described as unbelievable.
With the game tied at 24-24 and 32 seconds on the clock after Vegas had just driven the length of the field for a controversial game-tying touchdown pass from Derek Carr to Keelan Cole, the Patriots' offense managed to get out near the New England 40, but were seemingly playing for overtime. After a hand off to Stevenson that went into Vegas territory in the closing seconds, for some reason, Stevenson lateraled to Jakobi Meyers, who panicked and tried to throw a pass across the field in desperation mode despite the game still being tied. The ball was intercepted by old friend Chandler Jones, who ran it back for a game-winning touchdown in truly stunning fashion.
"Obviously, we made a mistake," head coach Bill Belichick said of the final play. "We had a mistake on the play."
"Trying to do too much, trying to be a hero I guess," Meyers said.
Stevenson took full blame during his postgame press conference.
"The coaches gave us a play to kind of run the time out," he said. "There was only a couple seconds on the clock, so I feel like I should have just got down…the play call was just a draw play. Nothing more, nothing less than that. I'm supposed to know the situation. I'm supposed to know how much time is on the clock in critical situations and I failed to do that today. It is what it is"
Stevenson also wanted to make sure Meyers was absolved of blame on the play.
"The play started off with me with the ball, so if I didn't pitch it back to him, Jakobi wouldn't have had a chance to do that," Stevenson added. "I take full responsibility for the play and I've just gotta know the situation. I've gotta know what's going on in the game."
Before the embarrassing finish that dropped the Patriots to 7-7 with three weeks left, the team actually showed some resiliency in the second half. Trailing 17-3 at halftime, New England desperately needed a spark and got one when Kyle Dugger came up with a huge play, reading a screen to DeVante Adams, jumping the route and coming up with one of the easiest pick-sixes you'll ever see from 16 yards out to cut it to 17-10. The TD was the sixth for the Patriots' defense, the most in the league to that point.
Derek Carr found Hunter Renfrow for a gain of 14 on third-and-13 on the ensuing drive, but Las Vegas native Lawrence Guy came up with a sack a couple snaps later to force another third-and-long, ultimately forcing a punt that pinned New England at its own one yard line.
Stevenson (19/172) quickly rumbled out to the 28 to give the offense some breathing room. A deep ball from Mac Jones to Nelson Agholor down the left sideline for 32 yards a couple snaps later seemingly set the Pats up just outside the red zone, but it was ultimately overturned. Kevin Harris, Pierre Strong and Stevenson took it upon themselves to carry the offense, bowling defenders over with more ferocity on each carry. Eventually, the drive stalled and Nick Folk booted a 47 yard field goal to cut it to 17-13 with 1:21 left in the third.
The defense almost immediately forced a three-and-out after a Ja'Whaun Bentley sack on third down sent the teams to the fourth quarter. An illegal contact call on third down after a Jones scramble came up short briefly extended the ensuing drive that started at the 50, but consistent pressure on Jones the next few snaps forced a 54-yard Folk field goal that barely snuck over the crossbar and inside the left upright, bringing New England within one point.
Back and forth punts followed until the Patriots took over at their own 24 with a little over five minutes remaining. After a Stevenson hand off, Jones hit Meyers for a 39 yard catch and run down to the Raiders' 34. Stevenson – a Vegas native – ripped off a touchdown run on the very next snap and Meyers hauled in a two-point catch for the 24-17 lead with 3:43 to go.
Yet another three-and-out followed as Carr, Adams and the Raiders' offense struggled to get on the same page. Vegas stopped the Pats quickly while also using remaining timeouts to get the ball back before the two minute warning. Stunningly, Carr converted a fourth-and-10, then continued leading Vegas on a game-tying march. Cole hauled in an impressive touchdown catch in the back left corner of the end zone over Marcus Jones, but it appeared he may have had a toe out of bounds. After a lengthy review, it somehow stood, making it 24-24 with 32 seconds left, setting up the mind-boggling finish.
"Obviously, a tough situation," said Jones, who had just 112 yards on 13-for-31 passing. "It falls on all of us. We've got to do better. It is what it is. Tough way to go out, but we just have to watch the tape and get better."
The Raiders took nearly seven minutes off the clock to open the game, marching down to the Patriots 21 yard line. Penalties ended up forcing the drive to fizzle out and Las Vegas settled for a 49 yard field goal from Dan Carlson. New England's defense has been excellent on opening drives this season, giving up just one touchdown.
After trading punts, the Pats took over deep in their own territory late in the first quarter. Thanks mostly to a big third down throw over the middle to Tyquan Thornton and another dart to Jonnu Smith, the 14 play, 82-yard drive stretched into the second quarter. Jakobi Meyers drew a defensive holding call moments later, setting up Jones and the offense with first-and-goal at the two, but the messy red zone operation reared its ugly head again multiple times.
After Stevenson was stuffed, Jones missed a wide open Smith in the back right corner on second down. On third-and-goal, Jones hit Meyers in the back left corner, but a timeout was called before the snap. Mac had a pass broken up intended for Nelson Agholor and was visibly frustrated before seemingly convincing the staff to go for it on fourth-and-goal. Before the snap, another timeout was needed with the play clock winding down. Jones dove over the pile and scored what was technically New England's second touchdown of the sequence, but false start was called and the Patriots ultimately settled for a 24 yard Nick Folk field goal to make it 3-3.
The Raiders again had little trouble waltzing down inside the Pats' 20 – thanks in large part to a big third-and-nine conversion – and after a penalty, Derek Carr soon found returning tight end Darren Waller wide open up the seam for a 25 yard touchdown to put Vegas back up 10-3 with 5:18 left in the half.
The Patriots quickly had to punt after a delay of game and a missed throw from Jones to a wide open Meyers streaking down field. Vegas took over at its own 39 but quickly had to punt, leaving the door open for a New England "double score" before halftime with 2:07 on the clock. Stevenson opened the drive with a bullish 17 yard run, moving the ball out near midfield. Looking at third-and-six, yet another false start penalty forced a third-and-11, which turned into Jones just dumping it off to Hunter Henry and another wasted opportunity with a punt. Things got worse as the punt was blocked and Vegas took over at the New England 20.
After an immediate false start penalty, Carr eventually found Mack Hollins for a short TD with just four seconds left in the half, putting the Pats in the 14-point hole.
Things had gone about as well as they could have for the Patriots in terms of playoff positioning this weekend, with a path to the No. 5 seed opening up. Now, in one wild sequence, not only did playoff hopes fade a bit, but you've got to wonder if guys will check out on this coaching staff after such an ugly game ended so devastatingly. A win would have covered up a lot of the problems this team still has.
This one was an all-timer and might ultimately be the type of event that pushes Kraft towards finally moving on from Belichick. It was that bad.