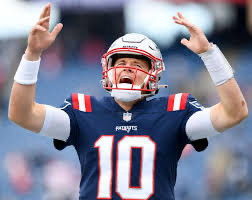 Image courtesy of USA Today Sports Images
As dysfunctional as things have seemed at times this year for the Patriots, it could be much, much worse.
After Miami lost to Buffalo and Baltimore lost to Cleveland on Saturday night, the Patriots now have a path to the No. 5 seed and a possible date with the Titans in the first round of the playoffs. Sounds a lot better than a trip to KC or Buffalo the third weekend in January, doesn't it?
The only way that path can play out is if the Patriots take care of business against Las Vegas on Sunday. A loss to old friend Josh McDaniels puts us right back in "what's next?" mode when it comes to the future of the franchise rather than, 'well, let's see what they can do when they get in the dance.' Even if you don't think this team can benefit from making the postseason (they can), the last three weeks being meaningful is a lot more fun than playing out the string.
Anyone want to talk Red Sox yet? I didn't think so.
The Patriots need Mac to lead more than he ever has if this team is going to make a real playoff push. No more whining about the play calls. No more whining about the unqualified coaches telling him what to do, even if it's ass backwards in his opinion. A second-year quarterback simply doesn't have enough pull to be this demonstrative towards his coaches. With the team still very much in a position to make some noise if they can get things figured out, it's now up to Jones to show he's capable of making chicken salad out of chicken…well, you know. After all, isn't that the job of a franchise quarterback?
"I think I always try to lead by example, just by working hard. Always try to do more, that's all you can do and hopefully people see that," Jones said earlier this week when asked to describe his leadership style. "I know that they do, but I'm not a super, super talkative person, but I do like to be around my teammates and get a message across. But at the end of the day, it's more about just enjoying the game and having fun, which you've got to try to do no matter what. Practice is sometimes you have good, sometimes it's bad. So like I said, you work through that and lead either way. It doesn't matter if you're up or down. So just try to lead and stay consistent and all that."
Things certainly haven't been easy for Jones this season and that's not entirely his fault. The outbursts on the sidelines are also a good thing. I'd rather know he's passionate and losing affects him, unlike someone like Jayson Tatum, who seems indifferent nightly.
The young QB was put in an awkward position, but we're now in late December and the team is very much alive in a wacky and unpredictable AFC. Are they Super Bowl contenders? Probably not, but Jones – and the rest of the offense for that matter – now owe it to teammates to cast all coaching doubt aside and just go play ball.
Pouting time is over.