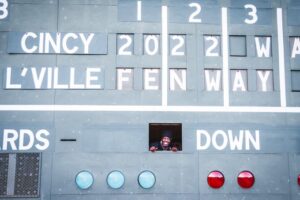 Image courtesy of @LouisvilleFB
Over the years, the Patriots have had some incredible receivers that have provided fans with unforgettable memories.
Terry Glenn, Randy Moss, Julian Edelman, Danny Amendola, Wes Welker. Some others were good, but not great, yet still left their mark in big moments. David Givens, David Patten, Chris Hogan.
Only one receiver can fit into both of those categories: Deion Branch.
Branch is one of the few that can always come around to the New England area and immediately be embraced lovingly by the fan base all these years later. The 2004 Super Bowl MVP, Branch was never in the Moss category, but still was a huge piece of the puzzle here, both early and late in his career. Patriots fans have a special place in their heart for Deion Branch and always will.
Branch is currently the interim head coach for his alma mater Louisville and he'll get to have a special experience on Saturday when he coaches at Fenway Park in the first real Fenway Bowl to be played after the first two editions were cancelled due to covid. Louisville is facing Cincinnati with kickoff set for 11 A.M. on Saturday.
"On behalf of the University of Louisville, we'd like to thank the selection committee and the Wasabi Fenway Bowl for electing us to be a part of this game," Branch said in an introductory statement during the Friday morning press conference held at Fenway Park.
"The guys are super excited. We know those guys have been preparing super hard and we've been doing the same thing back in Louisville. The great thing about this is that you take these two rivals and it's very fitting that we have this game here in Boston. This is amazing not only for the team, but for myself, it's super special."
While Louisville has already named a new head coach in Jeff Brohm, you better believe Branch is going to enjoy the heck out of this rare opportunity in a place that provided him some of his finest football moments.
"The guys are very excited," he reiterated. "We've had two great weeks of preparation…this is an unusual predicament to be in, but I thin first and foremost our guys have embraced the moment. We're taking full advantage of the opportunities and we're expecting a great game tomorrow. Not a good one, a great one. We're going to have a lot of fun and see some great things. These guys are going to be all over the football field tomorrow and I'm excited to be a part of it."