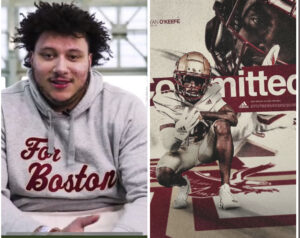 Images courtesy of BC Athletics
For all those worrying how Boston College was going to fix things after a disastrous 3-9 season, answers are already coming.
On top of the addition of former Texas State offensive lineman Kyle Hergel earlier in the week, Boston College got a ton of good news on Wednesday night. First, All-Acc lineman Christian Mahogany put out a video on social media announcing he would be returning to BC in 2023.
Mahogany 2022 with his injury but remained active in offensive line meetings throughout the year and showed his commitment to the program by trying to help the younger guys up front as they dealt with their growing pains and took their lumps in ACC play.
Mahogany sent BC fans on a bit of a roller coaster ride with the video, sitting down and making it sound like he was thanking everyone before departing for the NCAA transfer portal. Then, in typical Mahogany fashion if you've ever dealt with him, the jokester had quite a swerve coming. Mahogany – and the fabulous BC editing team – had a clip of Connor McGregor apologizing to "absolutely nobody" before cutting back to Mahogany in a chair inside the Fish Field House, revealing he was coming back and explaining how much he loves it here. His leadership was more irreplaceable than his talent, but both are now back at The Heights and should immediately pay dividends up front.
Not only did the team get the great news about Mahogany, but Hafley and his staff landed another huge fish in the chaotic recruiting pool with a commitment from former UCF star wideout Ryan O'Keefe. O'Keefe could be an immediate replacement for the departing Zay Flowers with one year of eligibility left.
O'Keefe had offers from elite programs like Oregon and TCU, but chose Boston College. The speedy wide receiver has been clocked at sub-4.4 speed at times and has over 2,000 career receiving yards. The move even got the 2022 version of an "approval" from Flowers, who tweeted "turn that 4 up" while quote-tweeting O'Keefe's announcement as the newest BC wideout also wears No. 4. It'll be interesting to see if O'Keefe will wear it or if that number is now put away before eventually being retired in Chestnut Hill.
BC's offensive line looks awfully different already and now a huge piece of the offensive puzzle has already been replaced. With signing day set for next week, the huge cloud hovering over the program all year has already begun lifting and brighter days shouldn't be too far behind as we roll into 2023.