Image courtesy of Norm Hall/Getty Images Sport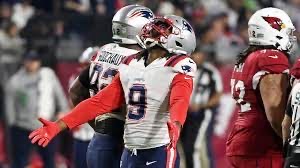 At this point, the Patriots will take victories however they can get them.
The defense led the way and the offense showed some growth (at times) in a 27-13 win over an Arizona team that lost star QB Kyler Murray three plays into the game on Monday Night Football.
At 7-6 and a week out in Arizona on the horizon before heading to Las Vegas to play Josh McDaniels and the Raiders, this was the definition of a must-win game. The Patriots are now the No. 7 seed in the AFC playoffs with four games remaining.
"Really proud of the way the team handled themselves," said Bill Belichick. "Long week, long trip out here and I thought they were really focused. Yesterday and certainly this morning in our walkthrough, things like that, they had good energy for the game…made enough plays offensively and defensively to win. They're an explosive offensive group. Tough to see a player like Murray get hurt, hope he's okay.
"Still a lot of good players on the field. Proud of how our defense hung in there and made some big stops…it was good to get contributions from everybody. Short week here with Vegas, kind of keep grinding and try to be ready to go on Sunday."
Trailing 13-10 at the half, the Patriots got the ball to open the third quarter. Less than two minutes in, a timeout was needed as the play clock wound down, prompting Mac to yell out a clear expletive as he shook his head and walked towards the sideline in a scene that's become all-too-familiar this season.
Looking at first-and-20 at the Arizona 45 after a block in the back negated a nice Pierre Strong run, he came right back and ripped off a huge run down to the 12. The offense couldn't find the end zone yet again though and a Nick Folk chip shot made it 13-13.
With Colt McCoy in after Murray suffered a non-contact ACL injury three plays into the game, the Cardinals were forced into a fourth-and-five scenario at the Pats' 41. McCoy had Hollywood Brown wide open deep, but he dropped it and the New England offense took over with fantastic field position, but almost immediately went three-and-out.
DeAndre Hopkins made a catch moments later and while foolishly carrying it away from his body, Kyle Dugger stripped him and Raekwon McMillan picked it up along the sideline, running it back for a 22 yard scoop-and-score TD and a 20-13 lead with 5:32 left in the third.
About four minutes later, Marcus Jones picked off a floater from McCoy and brought it back to the Patriots' 37. One play later, Nelson Agholor appeared to fumble after a catch and Arizona got its own scoop-and-score from Zaven Collins, but the play was ultimately ruled an incomplete pass.
Mac hit Kendrick Bourne in Cardinals' territory for a huge third down conversion on a comeback along the sideline as the third quarter closed. The first snap of the fourth was a Jones to Henry ball up the seam for 39 yards to set up first and goal inside the three. One play later, Pierre Strong punched it in for his first career touchdown to put the Patriots up 27-13.
After the teams traded punts, Matt Judon got sack No. 14.5 and Josh Uche forced a turnover on downs inside Arizona territory with a sack on fourth down and just under five minutes remaining in the game. After a Pats' punt, Uche earned sack 10 on the season as both he and Judon just pinned their ears back once New England was comfortably in control. In the final moments, Jones was able to kneel out the important victory.
"We'll watch the tape and see what we can do better as always, but the biggest thing is get the win, right?" said Mac Jones. "That's all we came here for. Every day you have to fight to win and that's what we're going to do."
"It's good to get out of here with a win," added Judon. "We pitched a shutout in the second half and we scored and we got a couple turnovers to get the ball back to our offense when they had a little bit of momentum and was rolling. Coming in here, getting a win…I know (the Cardinals') record don't show it, but that's a really good team, well coached. It's good to get the win."
The defense forced a missed Matt Prater field goal on the opening possession after Murray was injured, but after a 14 yard Jones completion to DeVante Parker on the first offensive snap, a one yard run, incomplete pass, false start on Trent Brown and a pass batted down at the line followed. Parker was also knocked out of the game early with a concussion.
With Arizona pinned deep in its own territory after a good punt, Judon forced a third-and-13 situation for McCoy and the offense with sack No. 13.5 on the season. The Pats defense gave it up, but caught another break when an illegal shift was called, negating the first down and the Cardinals punted, pinning New England at its own 18.
After one first down on a Marcus Jones screen, New England watched as Rhamondre Stevenson limped off following a short run and Jones was picked off one play later when his arm got it and a ball floated in the air, setting up the Cardinals at the Patriots' 37. Stevenson attempted to come back in the game but ultimately was done for the night. The first quarter ended with Arizona inside the red zone and Prater hit a 33 yard field goal eight seconds into the second for the game's first points and a 3-0 lead.
The offense finally found a rhythm with Jones finding Bourne and Tyquan Thornton at times with rookie running back Kevin Harris providing some nice runs out of the backfield. Harris ended up scoring on a 14 yard rumble following a face mask penalty the previous snap, putting the Pats up 7-3 with 11:25 left in the half. The run gave New England its first red zone TD since Week 9 of the NFL season and first rushing TD in five games.
"We had some young players make some significant plays in the game," said Belichick.
A questionable PI flag against Jonathan Jones against Hollywood Brown quickly gave Arizona great field position at the New England 27 less than a minute later., but the defense stood tall and forced another Prater field goal.
Jones hit Nelson Agholor along the sideline on third-and-13 to extend the ensuing drive, but quickly had to punt a few plays later. Moments later after a shanked punt and methodical drive by McCoy, James Conner bowled in from 10 yards out and the Cardinals went up 13-7 with just under three minutes to go in the second.
With a chance for the "double score" before the half after deferring the opening coin toss, New England could only muster a three-and-out with Jones having zero chance of avoiding a sack on third down. The Cardinals got the ball back at Patriots' 41 after a nice return and 1:42 to work with. Judon came up with a big run stuff on third-and-short and the clock running, setting up fourth-and-one. Jahlani Tavai came up with a tip on a designed roll out and the defense got a huge turnover on downs with 32 seconds on the clock.
With just 10 seconds left, Jones found Hunter Henry for a huge play over the middle down to the Arizona 28. On the very next snap, Harris fumbled a hand off that was thankfully recovered by the offense and Folk hit a 51 yard field goal to close out an ugly half with New England miraculously only down by three.
With injuries mounting – Jack Jones was also injured in this game – and the AFC playoff picture wide open, these last four weeks – starting with a showdown against old friend Josh McDaniels this week – is going to be one hell of a roller coaster ride to the finish.
"One game at a time, it's a one game season. There's going to be a lot of change over these four weeks for everybody, that's just how it goes," said David Andrews. "You start looking at that stuff and focusing on that and you're going to let something slip away. It's a one game season and that's how you have to look at it."