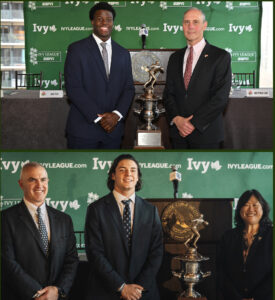 Image courtesy of The Ivy League (@IvyLeague)
On Monday afternoon, Harvard defensive lineman Truman Jones was named the Bushnell Cup winner as the Ivy League's defensive player of the year along with Princeton's Liam Johnson. Yale quarterback Nolan Grooms took home the offensive honor.
Grooms led the Bulldogs to the Ivy League title with a win against Harvard in The Game on the final day of the season, while Jones was a dominant force in the Ivy League and was widely considered one of the most disruptive defensive players in the league.
"The thing they had that you can't quantify in how many yards they had or how many sacks they had, is there amazing character," Harvard head coach Tim Murphy said while thanking the families of both Jones and running back Aidan Bourget, who was on hand in New York as one of the offensive finalists. "The Yale kid and the Princeton kid are absolutely no different and that's what makes them so successful and so enjoyable to coach.
"If you had a way to quantify their leadership, their toughness, their resiliency, their grit, the great mentors they are to their younger teammates, they'd be in the 99th percentile."
Jones gained First Team All-Ivy unanimously and won the Bulger Lowe Award given to the New England Defensive Player of the Year. Jones led the Ivy league in tackles for loss (13.0) and was third in sacks (6.0). Jones will be headed to the 2023 Hula Bowl after 40 tackles and six quarterback hurries in 2023. Jones is also A biomedical engineering concentrator with plans to attend medical school following his playing career.
Jones was just the 12th Harvard man to win a Bushnell Cup and the first to do it since Scott Hosch in 2016.
"Good afternoon everyone, I first want to start by giving all the glory to God," Jones said as he began his thank you speech. "He's blessed me and helped me stay healthy and kept me safe throughout this journey. I want to give a big thank you to my parents, mom, dad, brothers – I have two younger brothers – and believe it or not, my mom has been at every game this year. Coming from Atlanta, GA with another brother playing on Friday night's is no easy feat, so thank you mom for everything.
"I also want to shout out the other players up here. Liam, Nolan, AB (Aidan Bourget), you guys have revolutionized the Ivy League and really elevated the level of the game here. You've created something that's really special and the level of competition. That admiration that we have for each other, I really respect that and appreciate how we each compete on a weekly basis…I want to thank the coaches, particularly Coach Murphy and the Harvard football staff. They believed in me. They saw something that I didn't necessarily see in myself. They allowed me to come to a place like Harvard to develop myself."
Grooms finished second in the league in rushing with 726 and also threw for 1,660 yards. Nolan was responsible for 20 total touchdowns (14 through the air and six rushing). Grooms led a game winning-drive in the fourth quarter against Harvard and threw the go-ahead touchdown pass late in the game. Grooms – like Jones – is the 12th member of the Bulldog program to ever win the award.
"It is truly an honor to coach Nolan," said head coach Tony Reno. "All he thought about all year was the team. He is an extraordinary player and even better teammate. Nolan was the catalyst of our team. He played his best in the games that really mattered."
Grooms is only a junior, so the now award-winning QB will have one more shot to add to the collection next season.
"I was trying to figure out what to talk about and how to start this speech if I was lucky enough to win, and the first thing that came into my head was team," Grooms said after first thanking athletic director Victoria Chun. "Team 149 – led by our captain Nick Agruollo, one of the best leaders I've ever been around in my life – it was the closest team I've ever been a part of. The will to win every week, the drive to work, literally just the overall relationships that were established in that locker room throughout the season is something I'll never forget."