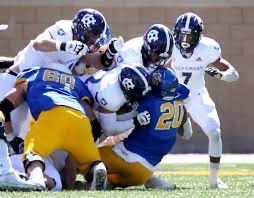 Image courtesy of David Eggen/Inertia
April 24, 2021 may have been a turning point in the trajectory of the Holy Cross football program.
That afternoon – after playing just three regular season games in the odd spring season – the Crusaders lost 31-3 to No. 1 South Dakota State in the first round of the FCS playoffs. The Jackrabbits went on to lose the national championship game to Sam Houston, while Holy Cross used that day as a jumping off point that has culminated in the success the program has achieved so far in 2022.
Since that game, head coach Bob Chesney and the rest of the program have not only dominated the Patriot League, but Holy Cross has become a true national championship contender. Following that game, Chesney talked about his team needing to "remember the feeling" they had leaving Brookings, South Dakota and they have. It's fueled the program to reach the level it's reached.
There are currently 16 fifth-year guys on the roster who remember that initial meeting with the Jackrabbits vividly and they hope that experience will ultimately help when the teams meet again in the NCAA Quarterfinals again this Saturday.
"The uncertainty of it all," defensive back John Smith said in a phone interview earlier this week when asked what he specifically remembers about the road trip the first time. "It was during Covid. Just leading up to the game, not knowing if you were even going to be able to play. Once we were there, it was just really unfamiliar to all of us. Looking out and just seeing a bunch of flat land. Roads that went just straight for miles. It was a new experience for all of us."
"Looking back at it, the whole road trip was a little weird because it was during the Covid period," added fellow fifth-year teammate Spencer Gilliam in a separate phone interview. "It was a different vibe I can't really put a finger on. It seems so different looking back at it a year and a half ago. We were such a different group back then. When we got there last time, we had to go through their basketball gymnasium and everyone got the Covid swabs shoved up their noses. It was nuts.
"Everything is obviously so different now. I think the biggest thing is we're not going to have that little twinge of uncertainty because we know what to expect, plus there's no Covid stuff to worry about. Everything surrounding the game this time is just different."
With so many fifth-year guys on the team, it feels like this moment – national television, final eight, all eyes on them – has been the moment the program has been building towards since that first loss to the Jackrabbits. SDSU has been at the top of the mountain, or at least very close to it, far longer than Holy Cross has, but times have changed and it feels like this is the spotlight Chesney and the program have been preparing for.
"I think it was," Gilliam said of that loss being the jumping off point for the program to reach the level it's now at. "You never forget that atmosphere and making it to play in the playoffs. Obviously, not doing as well as we wanted to, it set the seed inside our program and it gives you a jumping off point to where we ended up now a year and a half later. I definitely don't forget that experience and it's a good marking point to look back on and reflect on what we used to be. It';s night and day now."
"I've watched that game three of four times probably," added Smith. "Just knowing that we're so much better than what we were. I think we had something like 29 guys on the injury list going into that game. It was a new challenge and I don't think we were far off (in the first meeting), there were just a lot of factors that went into that game as well. Personally, I wanted to play them again. If you want to be the best you need to beat the best…we know we're just so much better than what we were. We're ready to prove that to the world now."
Ultimately, seasons like this one and moments like the one Holy Cross will have on Saturday at noon are why the 16 fifth-year guys decided to come back. Unfinished business and a chance to show the world what the program in Worcester is all about.
"This is why we came back," said Smith. "We're just trying to build and add on to this legacy that we've built since we arrived as freshmen. We feel like we're carrying the weight of all of our alums, our fans and our families of course. We just want to continue this momentum and keep making them proud."
"I think with our large, fifth-year foundation we have it helps create a sense of calm and normalcy to project to our other teammates that this is nothing new. We've been here before," added Gilliam. "This isn't some big event we've got to over hype, in the end it's a football game. It seems so normal to be in this spot now, and that wasn't the case two years ago. We feel like we belong in this position now. We just can't let this moment become too big of a moment for us because we've earned the right to be here."