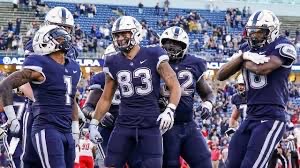 Image courtesy of USATSI
As the UConn program prepares for its bowl game against Marshall, the vibe around the Huskies is one that many fans and supporters never thought was possible this early in Jim Mora's tenure.
There's one guy who believed in Mora the entire time though. The man that hired him.
Athletic director David Benedict believed in Mora's ability to lead from the time he gave him the position of head football coach. Admittedly, maybe an immediate bowl berth wasn't the initial thought, but Benedict was one of very few people that believed Mora was capable of leading this stunning turnaround as quickly as he did.
"I'm not going to sit here and say things where people will ultimately think I'm crazy or not telling the truth, but there's multiple people I had conversations with before the season that I thought there was a pathway," Benedict said on a Zoom call moments after Coach Mora spoke following the bowl game announcement. "The only reason I thought there was a pathway was because I had total confidence in Coach Mora and what he was capable of doing.
"The more important thing and the piece…one of the things that probably convinced me to hire Coach is, it was very apparent that regardless of the situation, regardless of the game – and he referred to the three game stretch we had that was very difficult – there was never going to be a point in time where we conceded an opportunity to play. There is never a belief that we can't win a football game. I think it requires that kind of mentality, especially with the job he was tasked with."
Still without a conference, this bowl bid ultimately gives Benedict a big card to pull when it comes to those negotiations. Mora has quickly shown the program can once again be successful in football, both on the field and in recruiting. Benedict didn't speak on anything specific, but acknowledged this game against Marshall provides a unique opportunity to further showcase the turnaround that is still in the early stages.
"Long term, I'm not sure what anyone considers long term anymore, so let's focus on the short term. I think whether appropriate or not, perception can become reality and perception is pretty important whether it's locally or nationally," said Benedict. "I think there were a lot of people that had a perception that we couldn't be successful at UConn in football. That was something I never felt…I remember talking with some of you (media members) immediately following the Big East announcement, and I was a little fired up because it kind of insinuated that we made a decision that was going to kill the program.
"The best part of this is that perception is no longer a reality for anybody. We can be successful. You obviously have to take advantage and leverage this opportunity, which I have no doubt Coach Mora and his staff will do. Certainly, the most immediate thing is that there is now a perception that we can be successful here and I believe we will be."
Win or lose on December 19th, UConn simply being in South Carolina is important for so many reasons if this program is eventually going to return to the glory days of Fiesta Bowls and national rankings.
"We have a lot of fans that have hung in there with this program, with this football team in particular and we're certainly thankful for their continued support," Benedict added. "Very happy that we're all going to be down in Myrtle Beach together watching this football team have a chance to put themselves in a position to do something we haven't done in over a decade.
"It's a great bowl.It's a great location for UConn and our fans. We've got some direct flights that I'm sure will be booked up quickly if they're not already and we couldn't be more excited."