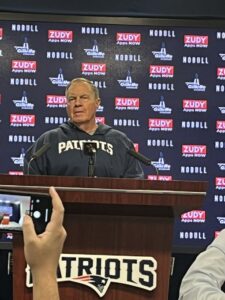 For a little while on Tuesday morning, Bill Belichick was in a good mood, smiling during his press conference and giving thoughtful answers during his first press conference of the week.
By the end of it, the media workroom at Gillette Stadium was pretty tense as Belichick answered questions and defended the offensive system, staff and play calling that has been under so much scrutiny this season.
"We're not going to go to the wishbone offense here. We're not going to run the veer," Belichick said when asked to clarify comments he made to WEEI on Monday about it being too late in the season to change the offense. "Defensively, we're not going to change and run some other team's defense or whatever. Major changes…yeah, absolutely (it's too late in the season). The system we have in place, I feel good about.
"That includes the offensive staff, that includes me, that includes whatever the whole process is on offense, on defense and on special teams."
To his credit, Belichick is loyal to his guys. Now, that may be a detriment to the whole operation in the long run, but if you're on Bill Belichick's good side, you may possibly have a job for life. It'a an admirable quality, but it may not be the best thing for the Patriots with a young quarterback. Belichick was quick to point out that self assessment of himself and the entire staff remains an integral part of the job throughout the season, no matter whether the results have been good or bad.
"I'd say we do that every year," he added. "I'd say we have a pretty broad system here in all three phases of the game, that's kind of what we do. We have multiple groups on defense, multiple coverages, multiple fronts. We have multiples on offense, multiples in the kicking game…there's some things you trim the fat here, move it a little bit over in this direction, or maybe you add a little bit more of something you feel is going well.
"Maybe a player is doing something or maybe some part of your offense or defense is doing something a little more productive and maybe you want to add a little more to that…we do that every year. Why wouldn't you do that when you get through 10, 11, 12, 13 games? You certainly know more than you did, maybe your team's changed. Or, maybe opponents are going to change and you need to do something different. Certainly, the weather is different than what we played in in September, that in itself – not the next two games, but after that – would almost necessitate some type of change of thinking than what it would be in September. That (the self evaluation) always been a part of any team I've ver been a part of in the National Football League."
Whether or not changes are coming before the season ends or in the offseason, there is a growing belief that Robert Kraft will step in and demand that Belichick change his staff. If he refuses, then what? It's a pretty wild situation right now that Belichick has created, one that many people saw coming back in the summer when Matt Patricia and Joe Judge were named as offensive coaches. Now that it's officially been a failed experiment, will BB stay the course and go down with the ship Costanza style? Or, will he cave to the fan base and ultimately his boss with his job potentially on the line a month or so from now?
Time will tell, but one thing is clear: for now, Belichick believes in his people and has extremely strong conviction in his way of doing things, even when the record doesn't show it.