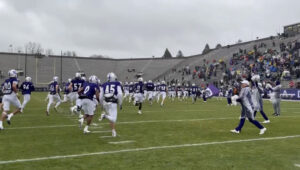 All year long, the question has been how long can Holy Cross keep this special season going as attention on the program grew and the climb up the national rankings continued?
After a second round win over UNH at a muddy, windy and rainy Fitton Field on Saturday, the answer may very well be "all the way."
At 12-0, Holy Cross is now just two wins away from playing for the NCAA FCS National Championship. First, Bob Chesney and his team will have to go on the road to an oddly familiar place for a quarterfinal matchup against the No. 1 team in the country, South Dakota State this weekend. This is the first time since 1983 Holy Cross will be playing as one of the final eight teams remaining in the tournament.
Back in April of 2021, Holy Cross was bounced from the playoffs in the first round thanks to an ugly 31-3 blowout at the hands of the Jackrabbits.
"The team we're about to play is everything you'd expect from the No. 1 team in the country," Chesney said during his weekly availability on Tuesday. "Really, zero weak spots anywhere on this team. For us, playing the No. 1 team in the country…obviously, we've had a season of so many firsts, but playing the No. 1 team in the country in South Dakota isn't a first for us, having done it two or three years ago or however long it was. So, I think there's a familiarity with it."
That familiarity could be a huge boost for the Crusaders, but upon looking at the Jackrabbits' roster, Chesney knows it's still going to be a very tough task.
"A lot of these names, sort of, unfortunately are the same," he added with a chuckle. "We'll go through and just battle with these guys because they're really, really good, as is expected. Everybody at this stage of the game is really good. It's a great test for our team."
You'd have a tough time finding many people in Worcester, MA that have ever been to South Dakota, it's not a normal "vacation spot" by any means. The road trip two years ago allows Holy Cross to not be caught off guard by the scene or the atmosphere around them, which of course could be crucial to their success.
"It's just such a different trip for us," said Chesney. "You get on the plane, you go (in 2021) and it's an opponent you really didn't know about. The stadium is beautiful. The whole set up there is just as first class as it can be. To me, I think that's something when you first get there you've just got to deal with that initial unknown. Now, for us, the familiarity from the hotel to the drive up there, to the stadium, to those things…it just adds a little bit of familiarity which I think is the word.
"It puts you in a position where you know the type of ballgame it's going to be. The physicality of it. The ability for this quarterback to find every little thing open immediately when it happens. The defense to play as tough as it does and then the special teams to be as sound as they are. We understand there's no relief. There's no 'hey, we can take this play off or that play off,' it's going to be 60 straight minutes of everything you've got."
Almost every week this season, Holy Cross was expected to roll its opponent. Well, now Chesney and his staff get to play the underdog card this week, which may also alter some decision making in terms of taking chances on the road as opposed to being in the friendly confines of Fitton Field.
"We always try to prepare with that mindset, if it doesn't go as planned and there's something we have to do to try and gain an extra possession. Those are things we're always going to be prepared for anyway," said Chesney. "We're fortunate we haven't had to execute many of those things in the past couple weeks.
"For us, it's just a matter of having all those things ready and those bullets ready to fire as needed. We've been carrying a lot of that stuff with us from Week 1 and really, other than that two point play against Fordham, really haven't needed it up to this point, which is a testament to our guys and their readiness and ability to execute the game plan at a high level."
Holy Cross has been on the map for a few years now, but nothing screams "elite program" like the noon time game on ESPN this Saturday when most of the remaining bracket plays Friday. Holy Cross will serve as an appetizer of sorts for one of the biggest college games of the year each season. FCS teams simply don't get that opportunity usually, but it's another big spot for the Crusaders to show just how special this team is.
"It's kind of actually a cool thing, I spoke to one of the programming directors at ESPN – Burke Magnus is an alum of Holy Cross – and I spoke to him on Sunday and he said he may have nudged them in that direction to get us in that spt. Whether that's true or not, who knows," Chesney said with a smile. "I thought it was pretty neat to hear from him and just see the support from all the way around.
"Every other team is on Friday night. We are the only show in town come high noon on Saturday. Following us is the Army-Navy game, so it's an opportunity for us to be on that national stage and for the whole world to watch and see what type of football we play and the way we do it. That's what I'm excited for."