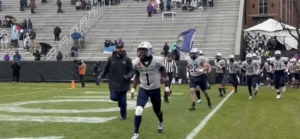 For years, the UNH program was almost a lock to make the NCAA FCS playoffs either as an at-large team or as the CAA champs. 'Perennial national championship contender' was probably the best way to describe the team under Sean McDonnell.
Those days faded for a while, but there was quite a resurgence in Durham during the 2022 season, led by new head coach Rick Santos.
UNH saw its season ended in a muddy, windy, rainy, ugly game against Holy Cross in the second round of the playoffs this past Saturday, but the final 9-4 record only tells a little bit of the story. The Wildcats were in the game in the second half before the HC offense was able to pull away. Santos' ability to get his guys playing with the level of swagger and confidence he did in his very first season is a heck of an accomplishment and no easy feat given the way athletes are built these days.
The Wildcats are back to being contenders and it seems like that's going to be the case as long as Santos is running the show.
"I'm proud of how our guys battled," Santos said after the loss. "Just so happy with this senior class and everything they were able to accomplish this year and get us back to a place where we can play meaningful games in December and ultimately, that's what it's about in our program.
"We took a step in the right direction this year. Obviously, it hurts to lose, I think that's why this game is so special, because it humbles you at times. You have to do some deep soul searching after a tough loss like that. We're going to go back to work with the young men that are committed to come back to our program. We're going to use that as fuel in the offseason and get bigger, stronger, faster. Hopefully, we have the opportunity to play in meaningful games like that the next few years."
Sophomore quarterback Max Brosmer had a memorable season and showed that he can lead the program moving forward. The production at the receiver position could be hard to replace with guys leaving, but with junior running back Dylan Laube still an option in and out of the backfield and other playmakers stepping up, this offense could repeat this year's performance in 2023.
"Bouncing back from a 3-8 season to where we are now this season is a huge accomplishment," Brosmer said after the Holy Cross game. "We're not satisfied at all with what we've done, but I'm still proud of the team. That's a hard thing to do, to bounce back after a losing season…to where we are now…that's a hard thing to do. It's a huge credit to our coaching staff, the guys who stayed, the seniors, the leadership was definitely a big change this year.
"It was exciting to see. I'm very excited to come back next year and do the same thing."
Sophomore defensive end Josiah Silver is and will continue to be one of the leaders on defense and he too is looking forward to running it back next year as this program gets back to consistently contending in the postseason.
"I experienced that 3-8 season and it was tough," he said. "Coming back this year, winning the conference, winning eight games in the regular season, winning the first game in the playoffs, it's a step in the right direction. Knowing how it feels to lose and then finally winning, it's a good experience. For me as a whole, we didn't get the outcome we wanted (Saturday), but this year's been better than what it was, so I'm happy to be here."