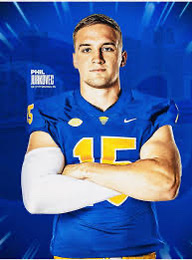 Image courtesy of Pittsburgh Sports Now
If you've been listening to us, watching or following our BC coverage for the last two or three months, you knew this was coming.
Days after former BC quarterback Phil Jurkovec announced he would be entering the transfer portal, Jurkovec let the world know where he'd be going when the portal "officially" opened on Monday.
Jurkovec is heading home. In what was a very predictable outcome, Jurkovec told ESPN's Pete Thamel early on what was a frantic day in college football that he will be transferring to University of Pittsburgh for the 2023 season, his final season of eligibility. Jurkovec will be a Panther for his last year of college and he'll be reunited with his former offensive coordinator here, Frank Cignetti Jr.
This move just made too much sense for it not to happen. Being from Pennsylvania, this is an ideal spot for Jurkovec to go and finish his career. Not only do you eliminate the distraction of having to get used to a new city, but Phil can immediately hit the ground running in terms of learning terminology and stuff like that with Cignetti. Jurkovec ultimately stayed at BC to try and improve his draft stock, but as injuries continue to mount up during his career, that never happened. Now, he'll have one more chance to close out his college career the right way in front of friends and family in a place he's very familiar with.
The most intriguing part of this decision is the fact that BC travels to Pitt in the 2023 season. It won't have nearly the hype that "The Tuna Bowls" had in this area, but that week is now going to be very, very interesting, regardless of where both teams are at in the ACC standings.
Let the "Jurk Week" hype begin.