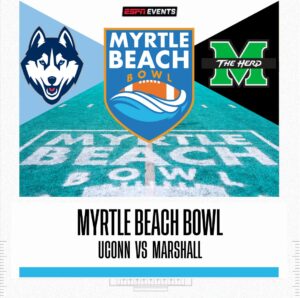 Image courtesy of @MBBowlGame
From one win a year ago, to 6-6, to the Hall of Fame Silver Lanes bowling alley in East Hartford. It's been quite a journey for the 2022 UConn football team.
While players and coaches had a "bowl party" at the alley early on Sunday, the Huskies soon found out where the final stop on this incredible run would be; Myrtle Beach, South Carolina.
UConn will be taking on the Marshall Thundering Herd on December 19 in the Myrtle Beach Bowl, which will be live on ESPN with kickoff set for 2:30. On Sunday afternoon, head coach Jim Mora met with the media via Zoom to talk about the big announcement.
"Very excited about this opportunity and grateful to the Myrtle Beach Bowl for selecting us," he said. "Excited about the opportunity to go play a tremendous team in Marshall, a very established program. I personally am so excited for the players and staff that have put in so much work and not just the football staff, the entire UConn athletic department staff, starting with David. The support of everybody has made this possible.
"I think I'm most excited for our players. It's been a long, tough road for many of these young men. From the day I got here they had a goal and they've never blinked. They just worked hard every day, had a tremendous attitude and have really built a unique bond amongst each other. To have the chance to go to a great bowl like the Myrtle Beach Bowl, to play a great team like Marshall, to play together one more time as a football team and have that opportunity to go get that seventh win – which would make this a winning season – is something I know I'm personally excited about and I can promise you our players are excited as well."
Mora was asked about the idea to go bowling during the selection show and what the atmosphere was like once the guys found out they were officially bowl-bound.
"Hootin and hollering and cheering," he said with a grin. "Heck, we're going bowling so we went bowling. We gave out our "bowl-bound" shirts they all threw them on. I saw a lot of smiles. They were excited. I'm not sure it mattered to them one bit when, where or who we were playing. It's just a chance to play, but the fact we get to stay on the Eastern Coast and play a great program like Marshall…they know who Marshall is. They're aware they're an 8-4 team, a great football team and have a great history. They're real excited. It was pretty fun to be able to announce it to them, but Twitter kind of broke it before we could talk about it.
"But seeing and hearing them all together was pretty neat."
This season has quickly changed the perception of the Huskies program. UConn may still be an independent school for now, but Mora believes this bowl bid helps change the image of the program nationally and also helps recruiting, which is ultimately the straw that stirs the drink for any major program.
"I hope it starts to change the perception," he said. "I think that process has already begun. We're going to have the chance to play a game on national television and we need to go out and play well so people see what we are doing here, what we're capable of, what the future looks like. I think we're headed in the right direction. It's still a long road, but it's an exciting road. We've loved every day of it and we're excited about this game and the future of the program.
"I think that anyone that was on the fence in terms of whether or not they believed we could get this thing going in the right direction probably is more a little more convinced, talking about prospective student athletes. Again, it gives us a chance to play on a national stage on ESPN on a national television game. Young people will have eyes on us. We have players from South Carolina (that are being recruited) so, that helps us. Staying on the East Coast helps us. I don't see any negatives just a whole lot of positives."
While the Huskies have been off, they've still been working on fundamentals and making sure that the edge is still there. Now, with one more opponent to plan for, Mora and the staff will begin ramping things up next week before UConn makes one final road trip in 2022.
"We practiced a few days last week and it was more generic, it wasn't specific to any team," explained Mora. "It was working on fundamentals, assignments, communication, technique. I thought it was really good work, our young guys were really able to get a lot of good work in, competitive work. We kept it serious and yet, positive and upbeat. You don't want it to become a grind. You certainly don't want it to become a burden for these young men to play in a bowl game.
"We had really good, energetic, high-tempo practices. We didn't stay on the field for a long time, but we tried to focus on the fundamentals and work on some of the things we haven't done well enough as a staff or players and getting the young guys work."