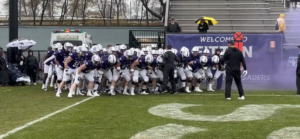 WORCESTER – If you remember the old NFL Films clips of cold, raw, wet, muddy playoff games from the 70's and 80's, you've got a pretty clear picture of what the NCAA FCS playoff game between UNH and Holy Cross was like on Saturday afternoon.
A huge crowd braved the elements to watch the Crusaders continue their special season with a 35-19 win over the Wildcats in the second round of the 24-team tournament. Peter Oliver was a man amongst boys at times on Saturday, rushing for 175 yards on 30 carries. As a team, the Crusaders rumbled through and over UNH defenders for 303 yards on the ground. Quarterback Matt Sluka continued to make his case as the best player in all of FCS with 109 yards and two touchdowns on the ground to go along with 63 yards through the air and a passing touchdown.
The Holy Cross defense held the Wildcats to just 22 rushing yards total. Weather played a factor for both teams – especially in the first half – but the Holy Cross defense won the turnover battle 5-1 and held the ball for 36 minutes to New Hampshire's 23.
The eighth-seeded Crusaders remain unbeaten at 12-0 and have won 12 games for the first time in program history. Holy Cross has also now made the NCAA quarterfinals for the first time since 1983. The reward? A date in South Dakota next weekend with a very good Jackrabbits team that hammered Holy Cross 31-3 in the odd 2021 playoffs that took place in April that season.
UNH's remarkable turnaround under first year head coach Rick Santos ends at 9-4.
"I just thought it was a battle over all," said HC head coach Bob Chesney. "You get out there and you know nothing is going to come easy. They're a great, great football team, very well coached and just play with that energy, that edge and that inspiration a lot like we do. You hope when it's all said and done you put your best foot forward and make plays when they present themselves.
"I just thought we played a complete game."
As rain muddied up one of the last all-grass fields in the country early on, both teams struggled to find any kind of rhythm and it was reflected on the scoreboard at halftime, with Holy Cross leading just 7-5.
UNH had to punt after the first possession, but the ball was touched by a Wildcat and recovered deep in UNH territory by Devin Haskins, setting the tone for an odd game. After a missed field goal for Derek Ng let that opportunity go by, Walter Reynolds picked off his first of two Max Brosmer passes on UNH's first offensive snap. Moments later, Oliver rumbled in from 39 yards out for a 7-0 lead. A punt that was tipped by Josiah Silver also got caught up in the wind with Holy Cross pinned deep in its own territory and the ball  eventually rolled through the back of the end zone for a UNH safety to cut it to 7-2 after one.
Terrence Spence blocked a punt that eventually set up a goal-to-go situation at the UNH eight yard line early in the second, but that sequence ended with another Ng miss. UNH had to punt, but the Wildcats quickly got it back on a fumble recovery at the Crusaders' 40, ultimately setting up a Nick Mazzie field goal to make it 7-5 with 5:20 left in the half. As conditions worsened both teams had chances to make something happen but couldn't. Ng trotted out for a field goal in the final seconds of the half, but a bad snap ended that idea as the teams went to the locker rooms battling each other and the elements while crowds on both sides quickly headed down under the bleachers for cover in what looked like a fire drill.
"It was definitely wet," Oliver said with a grin. "You really had to keep your feet underneath you. I noticed in warmups, if your feet weren't underneath and your center of gravity…you were kind of sliding, so I was paying attention to that."
"Situationally, we realized it's going to be hard to get your foot on the ground to kick a field goal, so now you're going to go for it," Chesney added when asked how the weather impacted play calling. "The punts…the ball was just heavier, the wind was challenging and put you in different situational…maybe a different play call in those minutes where you knew, 'hey, we're going to have to go for it on fourth down, so you can run it on third down,' so I thought those things showed up. Once we started being able to push a little bit, it was kind of the direction we were going to go."
Liam Anderson recovered a fumble on UNH's first possession of the third quarter, setting the offense up at the Wildcats' 33. Oliver ended up punching in a four yard touchdown to make it 14-5. Reynolds' second pick of the day followed on the next drive, bringing it back 52 yards to the UNH 19. A handful of plays later, Sluka hit Jalen Coker for a five yard TD on a quick pas to the front right pylon to give the Crusaders some breathing room at 21-5.
"We knew we couldn't just go into this game and arm tackle all day," Anderson said when talking about limiting the UNH run game and in particular, Dylan Laube. "Just a little bit more awareness on fundamentals and tackling."
"It was big," Reynolds added of getting two early turnovers in the second half. "Coach Ches talked about taking it to them first and opportunities are going to present themselves, right? So, being able to make the most of those and put points on the board was something we knew we had to do and being able to get those was crucial for us."
Late in the third, Brosmer (21-36/242/2 TD) led an impressive, methodical drive that ended with Kyle Lepkowski hauling in a TD from 11 yards out, but he couldn't hang on to the two point throw as well, keeping things at 21-11 heading to the fourth quarter.
A little less than five minutes into the final frame, Sluka added a three yard touchdown run to make it a 28-11 game. With 6:17 to go, Sluka had arguably his biggest "wow" run of the year, weaving in and out of defenders on the way to a 47 yard touchdown run that ended with him celebrating in the end zone with a large section of shirtless Holy Cross fans. At the four minute mark, Chesney pulled Sluka in favor of Joe Pesansky. Sluka waved to the huge crowd as he got a standing ovation and then began hugging teammates on the sideline.
As the clock ticked down and finally hit zero, the Holy Cross sideline sprinted towards the aforementioned section of fans, sliding in the mud upon arrival. Seconds later, fans began storming the field and players and coaches' families soon followed to celebrate what turned out to be the final day of the football season at Fitton Field in 2022.
The historic stadium saw the single greatest season in program history.
For Holy Cross, the goal all year long has been to extend the time this team has together, while also pushing for a national championship. Now, just two wins away from playing in the title game, all eyes are looking straight ahead, as they have been since August, and really, since the playoff loss to Villanova a year ago.
"We're on a mission," added Chesney. "We know that whenever that mission fails, we're going home. The team looks different next year…the game changes. It takes that full year to put a trophy in a trophy case. This isn't decided today, this is decided somewhere long before that. You end up stacking those days and just really loving being together and having fun. As hard as it might be, you're doing it together and I think there are moments that show up that are challenging but you've been through challenges before. You've been stressed before. You've been in those moments before where you were physically and mentally exhausted and when you do it together it's pretty fun.
"Let's just keep this train rolling. We've been preparing for this (playoff run) for a while, this was our goal, but there's more to this goal. It's just us continuing on this journey and understanding our time is limited. The sand is falling in the hour glass, so let's just make the most of what's left."