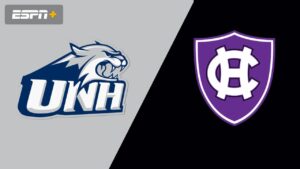 Image courtesy of ESPN
Kickoff: It's an all-New England showdown in the second round of the FCS playoffs on Saturday when New Hampshire visits Holy Cross for what could be an epic day. UNH is riding high off a CAA title and a win over the Crusaders' Patriot League rival Fordham in the first round last weekend. The eighth-seeded Holy Cross squad enjoyed a bye week during the first round and is hoping Fitton Field will provide a true home field advantage like it has many times this season.
First down: The weather is something that could play a serious factor here. Both of these offenses can score in bunches, but if the forecasted winds hold up it could make throwing the football very difficult. Both Holy Cross' Matt Sluka and UNH's Max Brosmer love to sling it, so if that's negated, the edge may go to Sluka in terms of who can be more productive, simply because of his running ability. That's not to say Brosmer can't take off and hurt the HC defense, because he can, but Sluka has had to do it far more often.
Second down: That means the running games for both teams will be huge. While it won't be cold, that wind could seriously limit play calling options. Holy Cross will need to rely on Peter Oliver and Jordan Fuller, while UNH will probably try and continue riding its workhorse Dylan Laube as far as they can take him. This obviously means the battle up front on both sides of the ball will ultimately determine this game. You can technically say that for literally any football game, but this one in particular might have to be an old school three yards and a cloud of dust, man vs. man type of day.
Third down: The coaching matchup here is fascinating. UNH's Rick Santos has his team playing with the same confidence and swagger that he played with for Bellingham and then during his career as a Wildcat. Bob Chesney is now fully recognized nation wide as one of the top coaches in the country and this Holy Cross team follows his lead like no other. Both of these staffs have extremely smart, talented individuals who are fantastic motivators and this is as much of a duel between them as it is amongst the players on the field.
Fourth down: Not only is this game for the right to move on to the FCS quarterfinals, but it's massive for recruiting. Both of these programs – as well as the other 14 in New England – are often competing for the same recruits. Whoever wins this game will have quite a bit of material to use when walking into prospect's homes when they're comparing schools. You can't go wrong either way, but if you're in one of the six states and deciding between these two programs, this game might just sway a decision.
Extra Point: If it was going to be 55 and sunny with no wind there's little doubt both of these teams will score in the 40's. That's no knock on either defense by any means, both units are very talented, but these offenses are both electric. Going back to the weather, if it's bad enough this game could be in the teens or 20's, but it's hard to see a scenario where both of these teams still don't at least reach the high 20's or 30's. Either way, it very well could come down to the last possession.
Final drive: If you don't mind braving the elements, Fitton Field will absolutely be the place to be at noon on Saturday unless of course, you're heading to Gillette Stadium for the MIAA Super Bowls. After winning its first ever home playoff game on a last-second touchdown a year ago, one can only imagine what type of special moments might be created on the historic field this time around. The all-New England battle with two teams who don't like – but definitely respect – one another could be one for the ages.