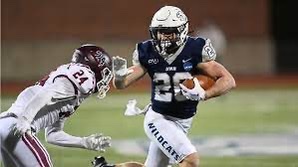 Image courtesy of UNH Athletics
It's funny how things work out sometimes.
Just a few weeks ago, Holy Cross had one of the craziest wins of the year in FCS when they beat Fordham in overtime on a two point conversion.
Fast forward about a month, and UNH was facing that same Fordham team last weekend in the first round of the FCS playoffs. The Wildcats ultimately won a shootout to set up this weekend's date with the Crusaders at Fitton Field.
So, what did UNH learn about itself while going against the Rams?
"Just how hard we played, it was a physical game," Santos said when speaking to the media earlier this week. "In all three phases, I think we rose to the occasion in terms of that. We knew it potentially had the makings of an offensive shootout. Defensively, I'm proud of their effort. We were down some defensive back. That was a great job by Coach Gillick, Coach DeAndre and our defensive staff getting some guys ready. We rolled out a couple receivers there during the Wednesday practice and got them ready to go to take some meaningful snaps in that game. I think it was a game where we knew we were going to be tested and we found a way to score, ultimately more than they did.
"Defensively, we made timely plays. They got their yards and got their points, but we created three turnovers, we wreaked havoc all day and I thought we were physical at the point of attack. On the offensive side of the ball, that was our most prolific day that we've had in six or seven years putting up over 600 yards of offense and 52 points. Going into the week, I was talking to Max Brosmer, just kind of challenging him and how good Tim DeMorat was. I think he probably got sick of it and wanted him to be the reason. For him to throw for more yards than the All-American quarterback I thought was big as well. Obviously, Dylan Laube was a man amongst boys out there, made plays in all three phases, 424 all purpose yards. We really only took him out when he needed a blow now and then…overall just really happy the way we finished the game."
While facing DeMorat presented a tough challenge for the defense, things don't get any easier with Matt Sluka. Sluka has a real case to be named the FCS Offensive Player of the Year and Santos knows how hard it'll be to slow him down.
"If we weren't playing against him, he's so fun to watch," he said. "He runs around back there, can make the routine throws, can make throws down the field, but what gives you fits and keeps you up at night is his ability in those unscripted plays where everything's covered perfectly and he finds a way to escape and eludes you. He's got short range quickness, but he's got top-end speed as well, so he can score from anywhere on the field. I think he does a great job in the zone read game knowing when to pull it…I think he's a complete player from everything I've heard about the young man he's a tireless competitor. Ww've got our hands full with him, certainly."
The respect between these two teams and staffs is evident, no matter how ugly it might get on the field Saturday. Santos was asked what he's observed about Chesney and the way he's brought the Holy Cross program to national prominence.
"He's earned the reputation, he's one of the best coaches in the nation at any level," said Santos. "He's built programs at the Division 2, 3 level, now at the Division 1 level. He's extremely organized, he's detailed, he's cerebral, very smart, well spoken. I think he's an elite motivator. You can see how hard his guys play on Saturday's. They fly around and have an edge about them. I don't see many weaknesses in his game, if any. I just think his ability to retain high quality assistant coaches is one thing he does as well and he's a great evaluator of talent."
One of the most underrated storylines surrounding this weekend's game is the recruiting factor. New Hampshire and Worcester aren't that far apart when it comes to getting talent to commit, which adds a whole other element to this rivalry and stakes for this game.
"You look at that roster and it's not a typical FCS roster," Santos added. "I think they have some group-of-five talent guys on there, some guys we went head-to-head recruiting the last few years and flat out they beat us on some really good recruits. I have the utmost respect for him. I've listened to him clinic and talk in the offseason and I just think he's as good as there is at what he does. He's the best coach in New England right now."