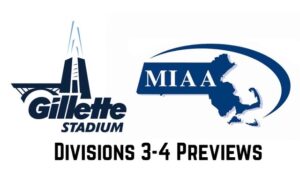 Division 3
No. 6 Wakefield vs. No. 1 Milton
Time: Saturday, Dec. 3, 5:30 pm
Records: Wakefield 12-0; Milton 12-0
Outlook: The Warriors have surprised a lot of people this year to set up this unique matchup at Gillette Stadium. Wakefield is in a championship game for the first time since 2001, while Milton is at Gillette for the first time. Wakefield just took down Melrose on Thanksgiving in a thriller and is playing with all the confidence in the world. Milton had an easier time on Thanksgiving with Braintree, but both these teams have high-scoring offenses and stingy defenses. Milton QB Owen McHugh is the guy that stirs the drink for Milton, while Wakefield is led by senior Javin Willis. Both guys can beat you on the ground and with their arms and have plenty of talented weapons around them.
Final Thought: This one has shootout written all over it. Both of these defenses are really, really good, but under the bright lights of Gillette Stadium I think these two teams put on a show.
Division 4

No. 2 Grafton vs. No. 1 Duxbury
Time: Friday, Dec. 2, 8 pm
Records: Grafton 11-1; Duxbury 11-0
Outlook: This is one of the more underrated matchups of the weekend. Duxbury comes in looking to re-write their story after losing on a two-point conversion in the Super Bowl a year ago. Grafton hasn't won a championship since a CMASS championship in 2012. This is arguably the best quarterback matchup out of all eight games, with Duxbury's Matt Festa and Grafton's Casey Jordan (along with Swiss army knife of sorts Tyson Thomas) looking to continue their fantastic seasons. Festa is widely regarded as one of – if not the best – quarterback in the state and would love to go out with the Dragons on a high note. Grafton is more of a control the clock type of team, but can hit you with a big play at any moment.
Final Thought: They say defense wins championships, but I'm not sure either one gets much of a say in this one. Both of these offenses have big play ability and I think they each hit a few. This might not be as high scoring as the D3 game, but expect a lot of points in this one too.